It is exciting to see the construction 3D printing industry taking strides in its progress. But it must be stated that the real estate market in Austin, Texas– much like the rest of the country – is dominated by conventional home-building technology. As a resident of Austin, the construction 3D printing company, ICON certainly has had a leg-up on other 3DCP players when it comes to presence within Austin, Texas as well as the Greater Austin metropolitan area.
In this article we will be taking a look at existing 3D printed houses in and around Austin, Texas, along with some future developments to come.
1. The Chicon House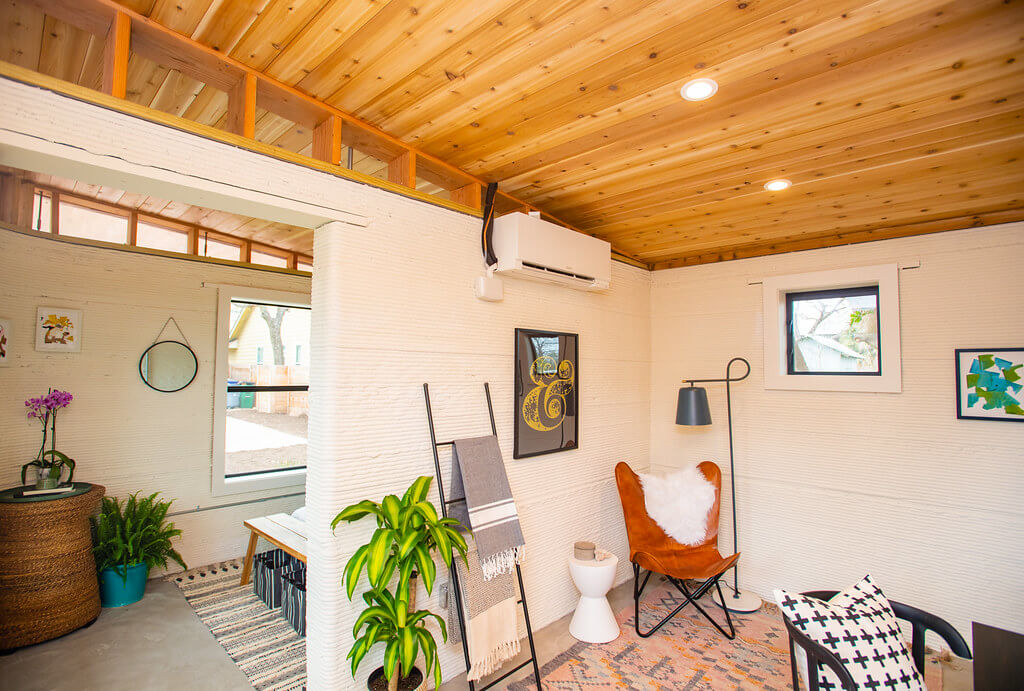 The Chicon House has the accolade of being the first permitted, 3D-printed home in the United States.
3D printed by ICON in collaboration with housing non-profit New Story in 2018, it is a 350 sq ft home that was printed in about 47 hours of print time across several days with the first-generation Vulcan printer. The home features 2 bedrooms, 1 bath, a kitchen and a large covered porch area.
ICON at the time claimed that it cost just $10,000 to build, but since the proof-of-concept never hit the open real-estate market, we cannot ascertain its current market value.
2. Community first! Village 3D printed homes and welcome center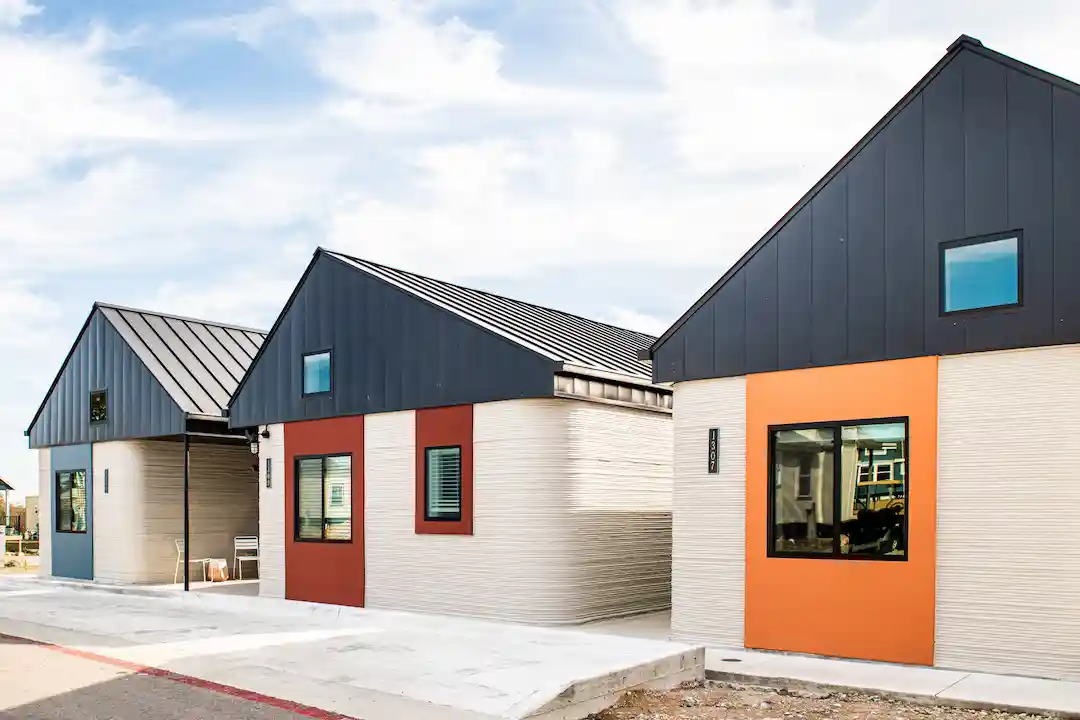 Building upon its successes with New Story in the nearby Tobasco, Mexico, ICON turned its focus towards building the one of a kind cluster of six 3D printed houses in collaboration with nonprofit Mobile Loaves and Fishes as part of the Community First! Village in late 2019 and early 2020.
Each of the six 3D printed houses provides over 400 sq. ft. of living space which includes a bedroom with attached bathroom, a living room, another bathroom as well as a decently-sized porch.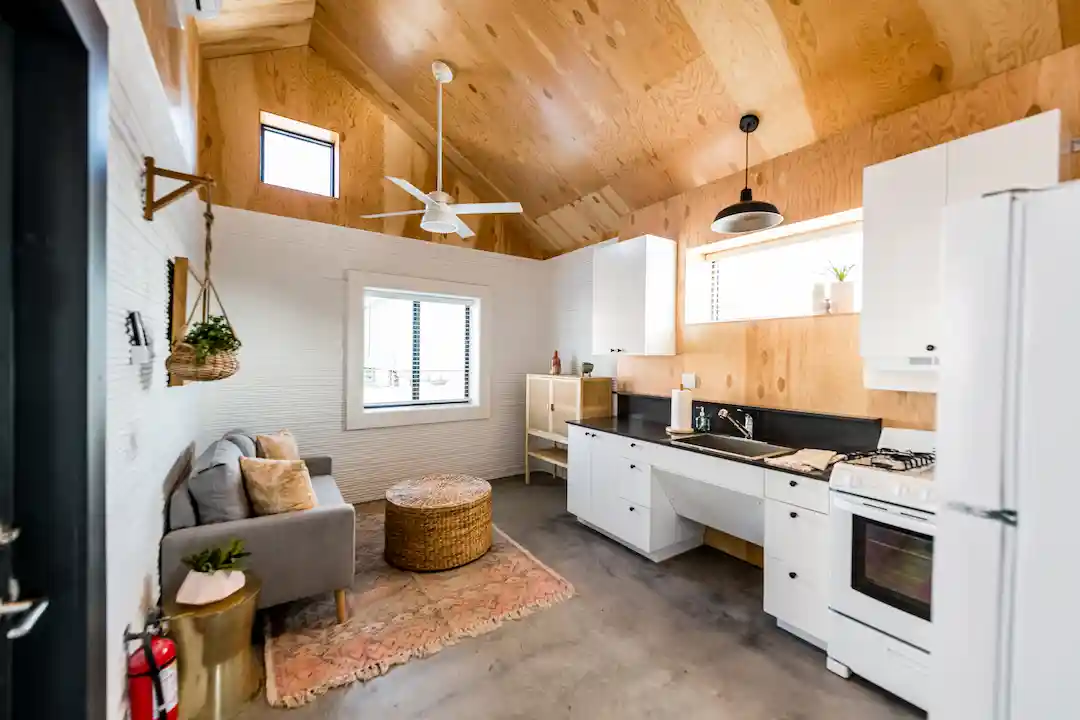 In addition to the 3D printed homes, ICON also printed a 500 sq. ft. Welcome Center for the residents of the community. Both the Welcome Center as well as the six homes are currently being utilized to help provide the chronically homeless with adequate shelter and living quarters.
3. East 17th street residences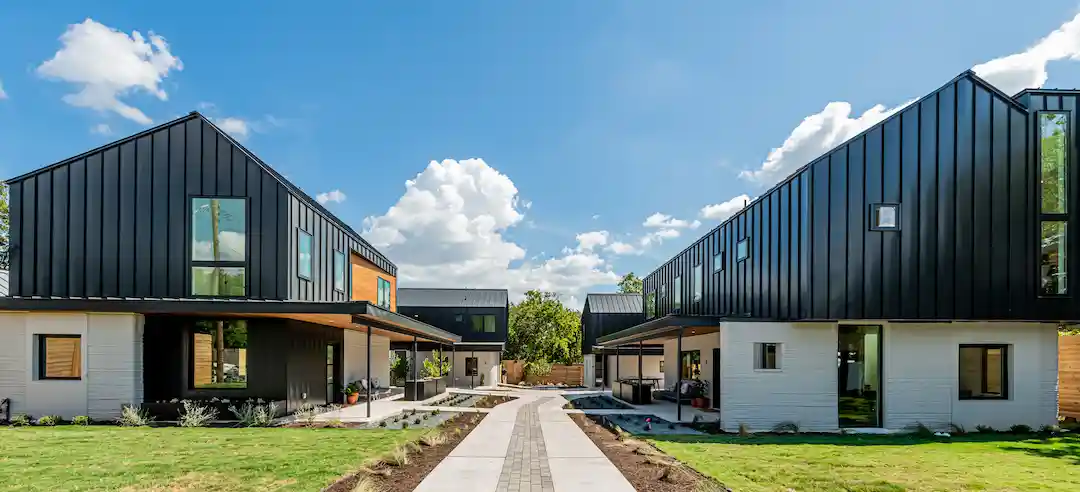 2021 saw a big boost in construction 3D printed housing projects. The East 17th Street Residences definitely count among the most attention-grabbing. Located 3 miles off downtown Austin, the East 17th Street Residences developed by ICON and 3DStrands marked a departure from a focus on low-cost, affordable housing that ICON itself pioneered since its inception.
Instead, the East 17th Street Residences consist of four modern poshly-designed 3D printed houses ranging from 952 sq. ft for the 2 bedroom, 1.5 bathroom Loggia Retreat to the 1,928 sq. ft. 4 bedroom, 4 bathroom Treehouse Residence with the Skyview Residence and the Garden Retreat falling in between the aforementioned specifications both in size as well as bedrooms and bathrooms.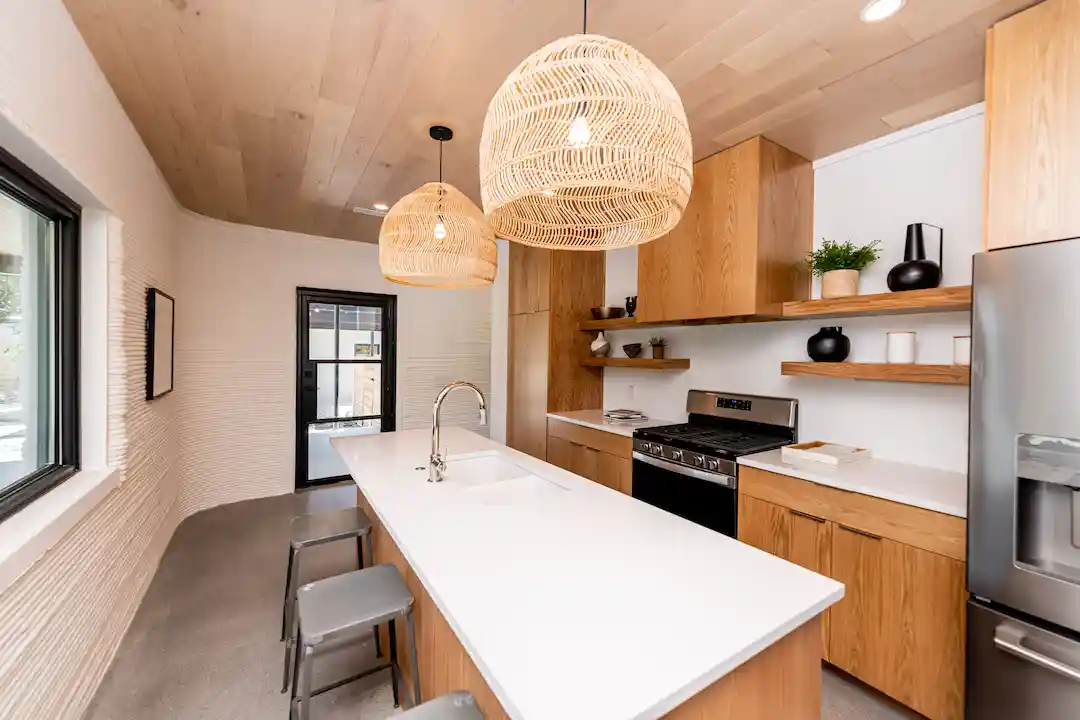 All four residences are currently sold out with an estimated market value around $800,000 per residence, though obviously exact rates differ depending upon market conditions.
The East 17th Street Residences is said to be the first 3D printed houses sold in the US.
Pre-fabricated 3D printed homes
While ICON itself may find itself dominating the construction 3D printed homes market in Austin, Texas, we'd be remiss to not point out the equally exciting construction 3D printing innovations happening in the prefab market that can ship homes anywhere across the country, including of course, in Austin, Texas.
4. Mighty buildings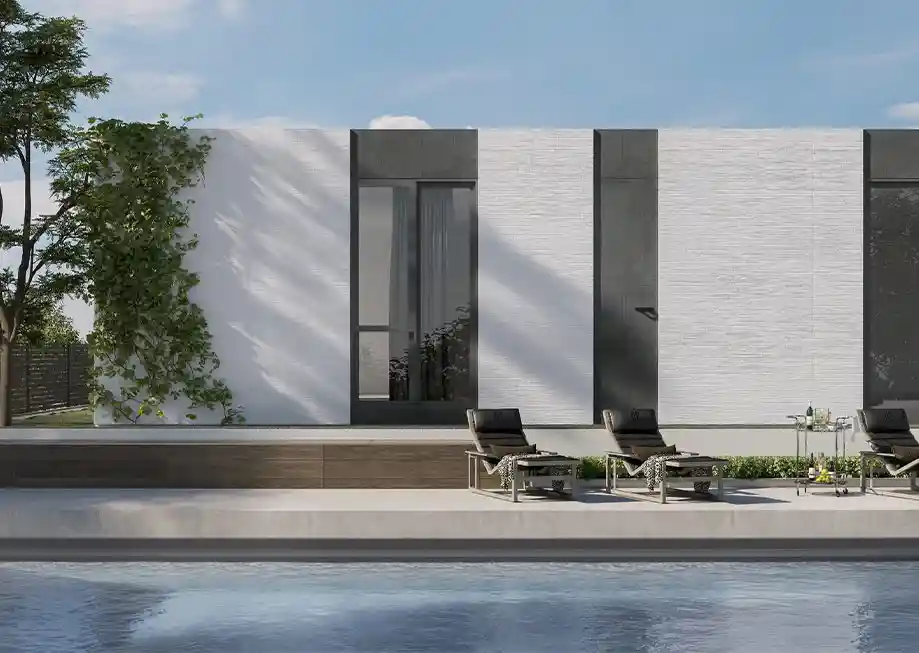 The Oakland based startup Mighty Buildings has made a name for itself by offering a modern 3D printed vision of the prefabricated home. Mighty Buildings' flagship design, the "Quatro" features a two-bedroom, two bath luxury design with a fully-equipped kitchen, ample storage space throughout the house as well as quartz countertops in the bath.
In addition to the Quatro, they offer a variety of different Accessory Dwelling Units (ADUs) that are prefabricated modular units ranging from as little as 350 sq. ft. to over a 1000 sq. ft. in size. All of Mighty Buildings' constructions are made under factory settings from a UV hardening proprietary composite material Mighty Buildings calls Light Stone Material (LSM). The modules are then shipped and assembled on-site.
As for pricing, Mighty Buildings provides custom pricing and an exact quote as-per customer demands. That said, however, the factory-to-foundation turnkey construction services for the ADUs start at $115,000 going up to $285,000 or more.
5. Haus.me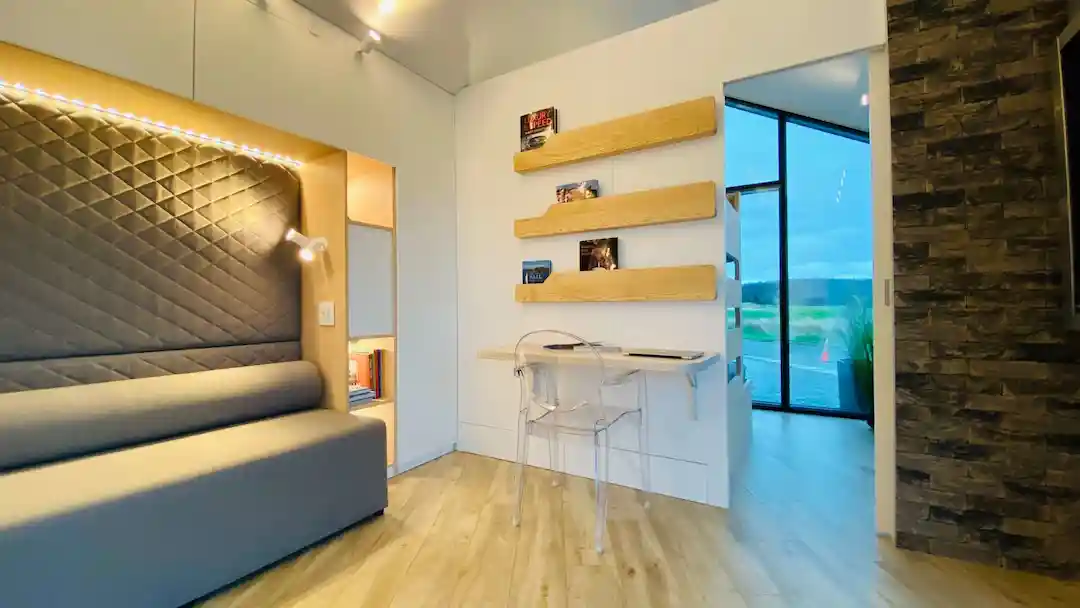 Lauded for its futuristic design and smart home functionality, Haus.me offers two conventionally sized prefabricated models called the mOne and the mTwo each offering 400 sq. ft and 800 sq. ft of living space respectively.
Both models come fully furnished, solar-energy powered, with advanced smart-home functions as well as HEPA air quality control and 99.9 % antibacterial and antivirus protection.
New to the line-up, is Haus.me's foray into the micro-home industry with the 120 sq. ft. microhaus model. While the tiny home isn't big enough for solar panels, it's optional pro-model does come with water and power backup options as well as a reverse osmosis water filtration system.
The MicroHaus starts for $ 60,000 for the base model and goes up to $80,000 for the pro model, plus shipping. Whereas the mOne starts from $219,999 and the mTwo from $417,999.
Future developments
6. Lennar 100 home development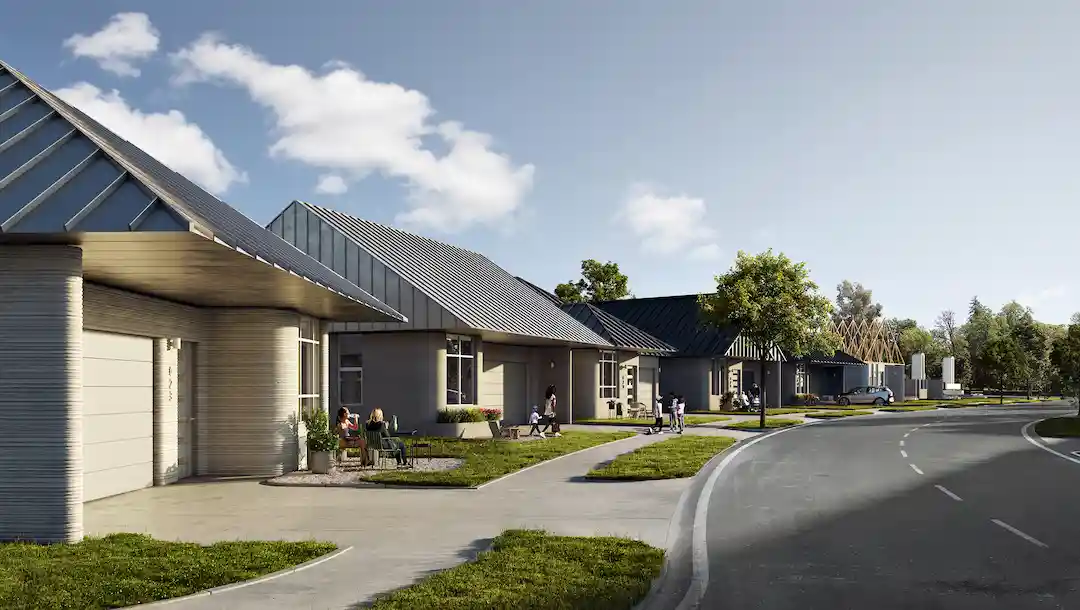 ICON and Lennar jointly announced an ambitious and innovative project in October last year to build 100 3D printed homes in Austin, Texas. While the location as well as the specifications of the homes is still undisclosed, we do know that the community is being co-designed by acclaimed architecture firm, Big-Bjarke Ingels Group with a focus on affordability, speed-to-market and next-generation energy efficiency.
The project came out as the first dividend from Lennar's investment in ICON. The two are treating it as a prize example of the maturity of both ICON's construction 3D printing technology as well as Lennar's dedication of adopting next-generation home-building technologies within its future projects.
The 3D printed housing real estate market in Austin, Texas
With the current housing affordability crisis ravaging the country, we would be the first to agree that construction 3D printing technology cannot come to the forefront soon enough.
Construction 3D printing last year proved its practical value in terms of not only being able to provide low-cost housing, but also to compete with conventional house-building technology for more mainstream housing requirements. This, however, is very much the beginning of the technology, and it may take the better part of the foreseeable decade before construction 3D printing becomes a major factor in home-building instead of the novelty that it is currently treated as.
As for Austin specifically, both Lennar's 100-house project with ICON as well as WePrintHouses' licensees would arguably play a strong catalyzing role to increase adoption of construction 3D printing technology.
If you are currently in the market for a new 3D printed home, then your best bet right now would be to wait for new developments or head for one of the prefabricated options. But with the construction industry eyeing construction 3D printing as its next breakthrough to meet the housing demand as soon as possible, we may be giving very different advice in a few years' time.