3D printers can be used to achieve some wonderful things. However, not all 3D printers are ideal for making cookie cutters. The best printers for making cookie cutters will have the following characteristics:
Disclosure: This post contain affiliate links, we may earn advertising commissions for sharing products we know and love.
Chosen printer should be reliable and require as little tinkering as possible (as most printers will require some tweaking) to get up and running. Unlike a printer such as the Ender 3x, which is an awesome printer, but requires a great deal of time to get setup and some technical knowledge is required to fine tune and configure the printer. After all, our time is best allocated to designing cutters and baking delicious cookies.
The printer must be portable. While the printer may not serve as a conventional kitchen appliance, it is a good idea to choose a printer that travels well. For larger printers with more build volume see, Best Large 3D Printers for Under $500.
The printer must provide a large enough build volume, quality prints and be affordable. This may not be a critical factor, however there is no need to over spend on a printer for such purpose. Unless the printer is intended for professional use. Nor should it be so low quality that the prints suffer in quality.
The chosen printer should have a heated build surface. Because we do not want to be troubled by bed adhesion or have to fiddle around with hair spray or glue stick while printing cookie cutters.
With that out of the way, let's get the dough rolling with most ideal 3D printers we've found for making cookie cutters.
1. Monoprice Select Mini Pro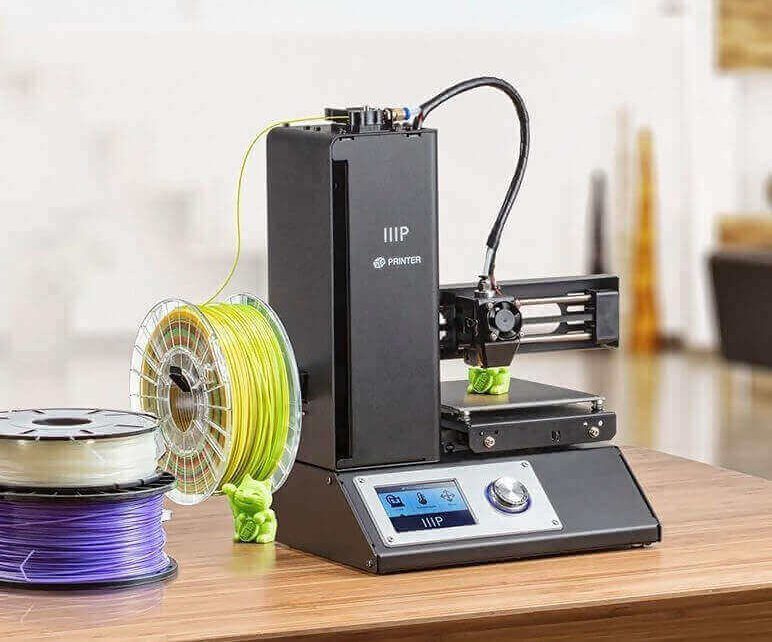 The Select Mini Pro from Monoprice is the perfect little printer for doing jobs like printing cookie cutters. The 120 x 120 x 120 mm build size is great for making cutters of all possible shapes and sizes.
It can print objects that are 4.7 inches wide, 4.7 inches tall, with 4.7 inches of depth. Given that most cookie cutters will range from 1-inch (25.5mm) by roughly 5 inches (127mm) tops, this printer can certainly handle the biggest cutters one can imagine.
The printer is 16.9 x 14.1 x 10.7 inches and weigh just 3.52 ounces. It can be hauled from place to place with little efforts. The frame is solidly built with nicely fasten aluminum parts.
Though there may be some tinkering required to get up and running, this printer is very reliable after the initial setup and configuration. The Select Mini also produce exceptional print quality.
Some notable features are:
Heated bed
Auto bed leveling
WIFI connectivity
This printer comes preassembled, with only a few steps required for setting up. The best part about this printer is perhaps the price. Its been known to go for well under $200. The build volume of the Select Mini maybe limiting to some. If you intended on using this printer to complete other tasks that may require a larger build size, it may best to check some of the other printers on this list.
There are some subtle differences between the Select Mini Pro and the Select Mini V2. It is a good idea to check out the V2 as well as the Pro before making the final decision. Either one will make a great choice, just a matter of which one is on sale.
2. FlashForge Adventurer 3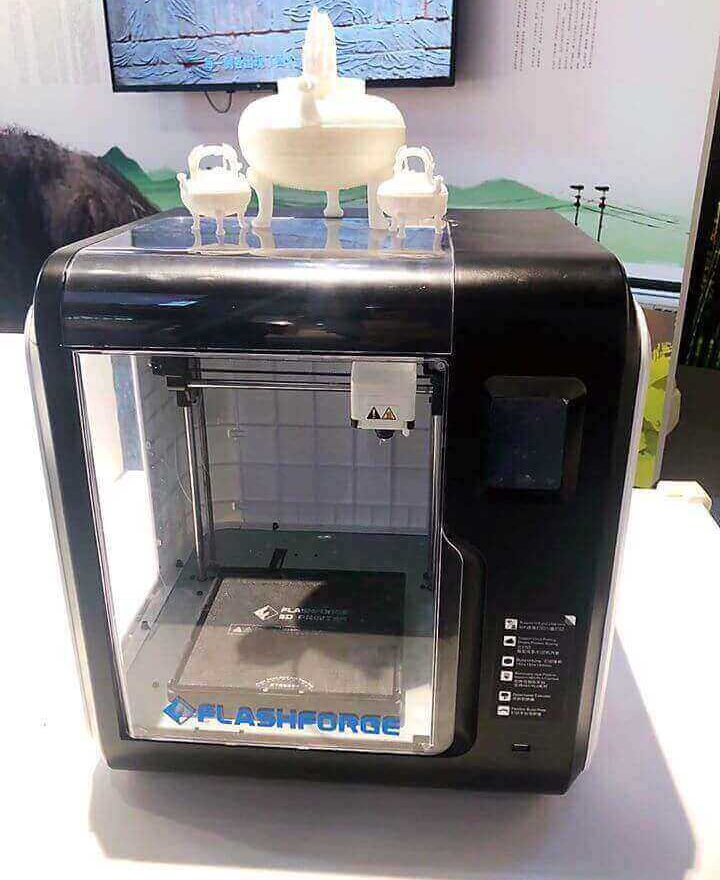 The Adventurer 3 is sleek and fairly compact 3D printer by Flashforge. The Adventurer 3 is a good starter 3D printer for a beginner. The printer has a 150 x150 x150mm build volume. That's 5.9 x 5.9 x 5.9 inches of build space. The large build space is more than big enough for any shape one may want to print. The excess build space can be used for printing multiple batches of cookie cutters in one go.
The printer's dimensions are 19.6 x 16.9 x 20.2 inches. It weighs just over 28 pounds. While this is a fairly large printer, it is not too big or heavy to hoist around when need.
The notable features for this printer are:
Easy to use
Heated build plate
Built camera for monitoring print jobs from a distance.
WIFI connectivity
The printer comes 100% preassembled. Setting up is easy. Just plug it in, feed the filament with auto feed mechanism and you are done. This printer can be printing less than thirty minutes after opening the box. The only thing that may require some time is configuring for more complicated models. The Adventurer 3 prints cleanly with unnoticeable defects. It will serve well for making cutters as well as other projects around the house.
3. Monoprice Mini Delta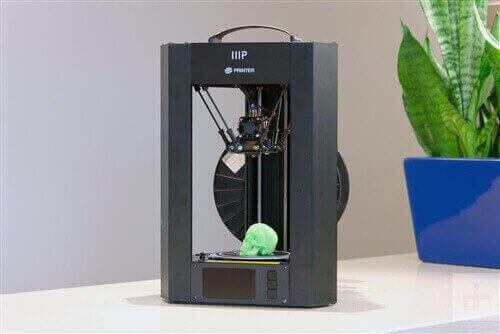 The MP Mini Delta is a compact, portable and fully capable 3D printer. The print size for the Mini Delta is 110 x 110 x 120 mm. That is 4.3 x 4.3 x 4.7 inch of build area. The printer's full aluminum and steel frame makes for a super sturdy and durable build. It weighs 30.6 lbs. (13.9 kg) and has a convenient handle for hoisting it around.
Some key features are:
Very affordable
Auto bed leveling
Heated bed
WIFI connectivity
It comes fully assembled. Just plug it in, load filament and you are ready to go. The print quality for the Delta Mini is near perfect. The user interface is simplistic and easy to use. This is a reliable printer the will last for a very long time.
4. QIDI X-Smart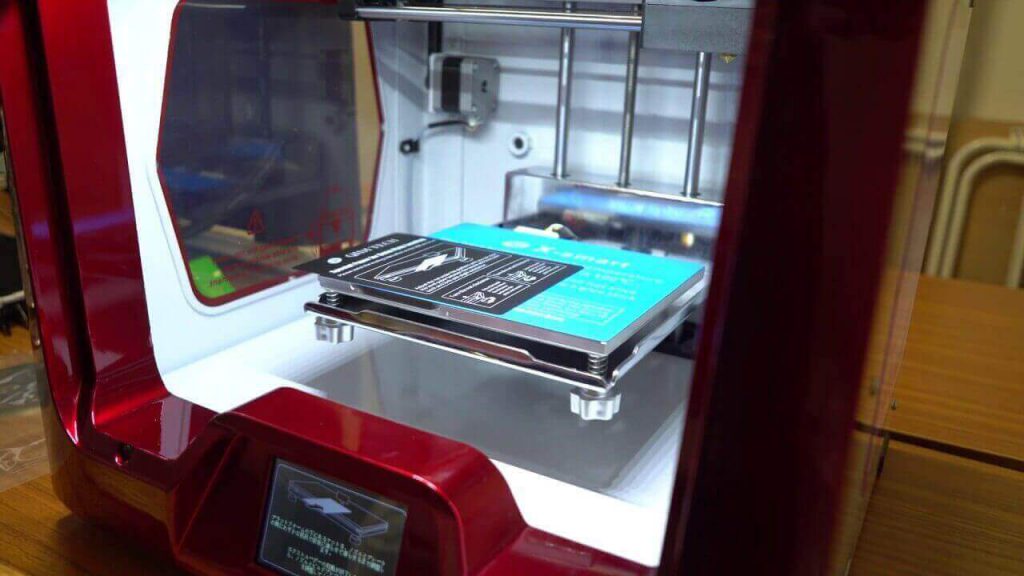 The X-mart is a fantastic printer not just for our main purpose of creating cookie cutters but also for the variety object that one may decide to print. The X-Smart has 6.3 x 5.9 x 5.9 inches of build volume. That's 160x150x150mm. Which means it will print just about any size or shape you throw at it.
At 33 pounds, it's a bit on the heavier side, but that's not at all a bad thing. It has ergonomic handles on the side for transporting it. Portability is good feature to have in case you ever want to haul to it to a friend, family member, or an event to be able to use it onsite.
Some notable features are:
Friendly customer support
Large touch screen
Wireless connectivity
The X-Smart is a reliable printer that will work out of the box and consistently produce quality prints provided that all the setting are correct. This is an awesome printer for the price. One side note and potential measure to save more is that, if you can look pass the unsightly design colors of the QIDI X-one2 model, it may also be a smart choice with a small reduction in the purchase price.
5.Maker Ultimate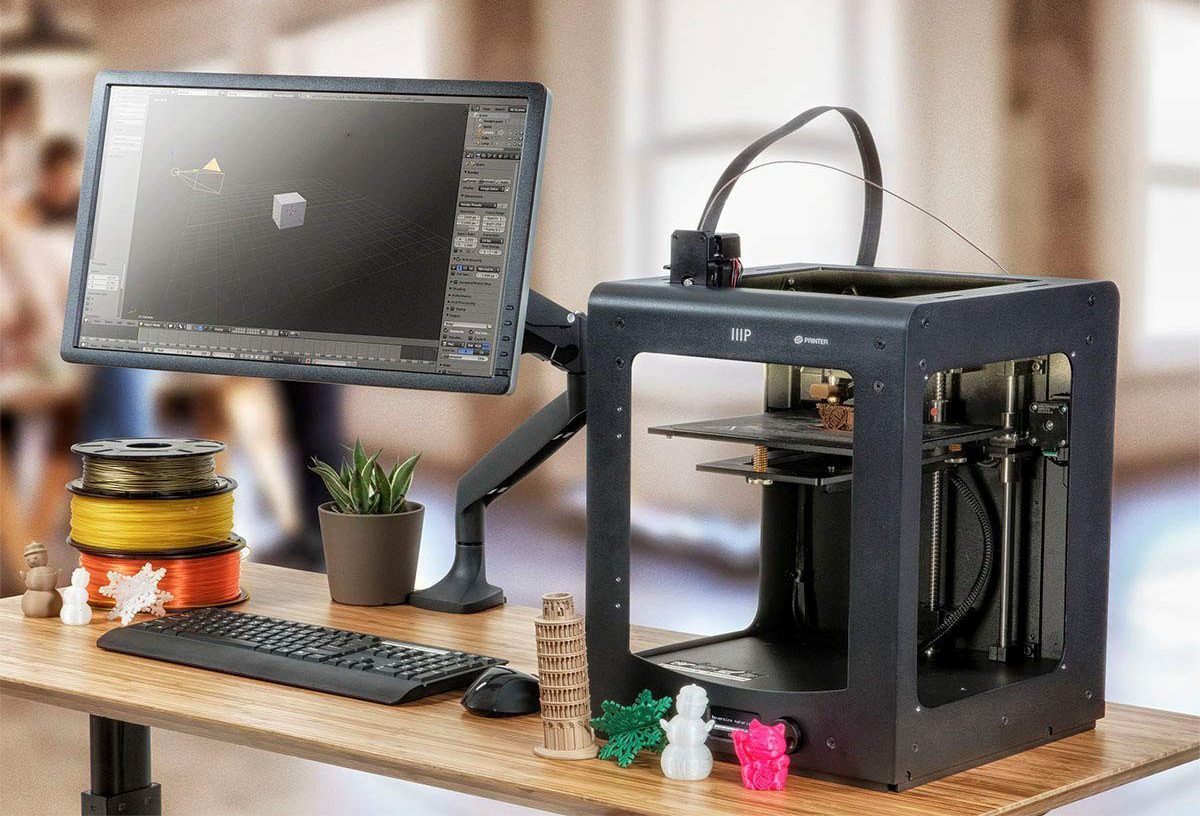 The Maker Ultimate by Monoprice is an all metal cube 3D printer. Though the Ultimate may appear small to eye, it has a large 200 x 200 x 175 mm build volume. That's a 7.8 x 7.8 x 6.8-inch build size. Due to the bulky metallic frame, the printer weighs just over 40 pounds.
Some key features for the Ultimate are:
Available technical support
Simplistic design
Anti-jam feature
Setting up is fairly simple, as this printer is preassembled from the factory. There are just a few a components, such as the spool holder that requires fastening before the initial prints.
Bonus 1: Panowin F1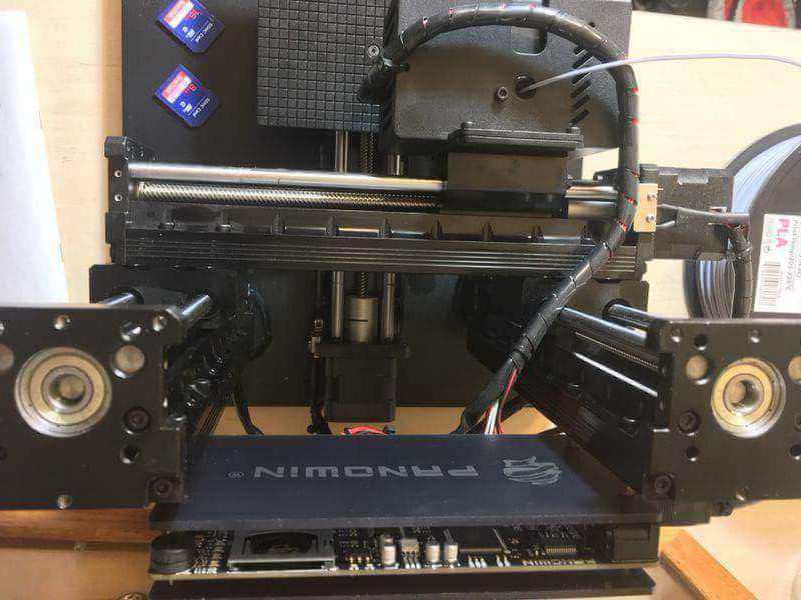 The Panowin F1 is basically a repackaged Trinus 3D printer by Kodama. The F1 is solidly built printer which gives off the tinge of an industrial machine. It has a max print volume of 120 x 125 x 125mm. That 4.7 x 4.9 x 4.9 inches of build space.
The F1 has the impressive versatility go from a 3D printer, to laser engraver in just a minute's times, just by changing the detachable head. Now not only can make awesome cookie cutters, you can also engrave custom design onto your cookies, cakes and pies.
The print quality produced from the F1 is fantastic. Though it is a DIY assembly kit, the setup is straightforward and can be completed in a few steps which takes about 30 to 45 minutes.
Bonus 2: UP Mini 2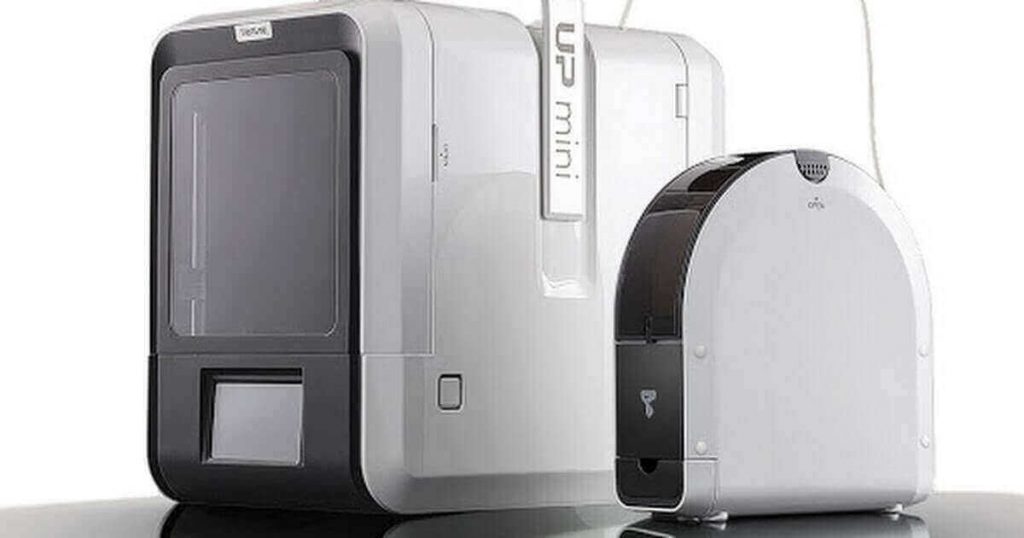 The UP Mini 2 by Tiertime is a compact and portable printer that is great in our case. The UP Mini 2 is not shy at all in the beauty department. It's one sleek machine that begs to be looked at. The UP Mini has a build volume of 4.7 x 4.7 x 4.7 inches. That is equivalent to 120 x 120 x 120 mm.
While this printer is geared towards the beginner crowed, with a complex design often comes with not so user friendly, difficult to troubleshoot issues. Consequently, the DIY learning curve for this printer may be more time consuming then some other printers.
Tiertime does however offer pretty good customer support for their printers. If one can get past the complexity of the design, it is a great 3D printer that will easily and consistently produce quality prints.
Notable features for the UP Mini 2 are:
WIFI connectivity
Heated bed
Built in HEPA filtration system
Auto leveling
Some other important things to consider
A few other important things to consider regarding printers for the purpose of printing food forming cutters is that, it is not advisable to place the printer in the kitchen along with the rest of the kitchen appliances, as hinted above.
Also, use plastic wrap around the dough or the cutters while in use as a barrier to prevent any potential cross contamination. Although PLA materials may be safe for food contact, the printing process may introduce some nasty foreign agents and contaminant to the end product.
Avoid SLA resin 3D printers for cookie cutter projects. As uncured resin and the curing process maybe a safety hazard. These precautions be viewed as gross exaggerations of risks, but better safe the sorry.