In this article, we are attempting to find a quality metal lathe to turn not so tough materials with a strict budget of $2000. We will be taking a look at what makes a metal lathe worth buying, as well as going through some of the best metal lathes that are available online today at a number of price points in our range.
Disclosure: This post contain affiliate links, we may earn advertising commissions for sharing products we know and love.
Features that make a metal lathe 'good'
Overall value
We'll start with overall value since we must be ready to make compromises. $2000 is not a very large sum when it comes to metal lathes. Our research highlighted the fact that most lathes in that price range will have some less than desirable qualities, often due to inconsistent quality controls.
We can forget about an automatic CNC controlled lathe. At least for now anyways. Our budget will only afford a manual lathe, sometimes referred to as an engine lathe.
Manufacturers have in-between models, but the compromises on them seemingly outweigh the savings.
We decided in the end to focus on the micro/mini/benchtop categories, as these align quite well with the $500/$1000/$2000 mark. And despite going through many different models in the testing phase, only a couple or so models stuck out as consistently being high-quality for their sizes.
Rigidity
When it comes to metal turning, one can never go wrong with a heavier machine. The reason for this is rigidity.
A heavier machine body provides a much more stable turning process, as the vibrations from the headstock motor, as well as those between the tool-bit and the rotating metal workpiece are absorbed readily by a heavier body on the lathe.
That is also why the most expensive lathes are floor models that start from well over $5000.
Power and variable RPM controls
More power allows a metal lathe to provide much smoother turning, as well as surface finish since the motor is not taxed even with a hard metal.
Similarly, variable RPM controls are simply a must on any good metal lathe. Even when turning a soft metal such as brass or aluminum, one simply cannot go full-throttle for all machining techniques. Lathes in this price bracket will of course require a bit more patience. But they are good for getting started and will get the job done respectively.
As a rule of thumb, the deeper the turn, the slower the RPM needed, with that much more torque required from the motor.
Locking mechanisms
This stems from the rigidity requirement of the metal lathe. But are also essential to alleviate the other culprit of poor turning: tool-pressure.
Essentially, the better the locking mechanism to hold the tool-post in a required position, the better turning results you are going to get.
Using a lathe is all about precision turning. Often in many thousandths of an inch or hundredths a millimeter. A big heavy metal lathe is going to be quite useless if the cutting tool for turning the workpiece can't be positioned exactly as the operator would want.
The best budget metal lathes available right now
Thanks to the abundance of tooling and machining brands available these days, any hobbyist or dedicated machinist can pick up a lathe starting from just a few hundred dollars. Prices go all the way up to tens of thousands for pro models.
Grizzly Industrial benchtop metal lathe (best under $2000)
The G0602Z defeats the competition from other brands, as well as from its own stable to become our best bench-top metal lathe under $2000.
The G0602Z adds a digital readout to the already outstanding G0602 model. The DRO isn't just a standard RPM reading of the spindle though, as it provides an X/Z-Axis readout for cross slide and carriage travel.
The work area is a generous 10" swing by a 22" distance between centers. The MT#4 (Morse taper #4) sized spindle has a large 25mm bore, with an MT#3 tailstock for standard accessories.
Powering it is a 1 HP, single-phase motor with adjustable RPM thanks to the built-in gearbox and easily accessible belts. This model does not feature a continuous variable RPM, but honestly, with the positively storied history the G0602 has with machinists, this missing feature can easily be overlooked when considering the heft of mods, tutorials and neat tips and tricks available on machinist forums.
Speaking of heft, the G0602Z is no lightweight. It tips the scale at 432 lbs. Make sure you have the required equipment or persons available to align this lathe on your benchtop. This weight of course is essential to providing the necessary rigidity that makes the G0602Z such a great tool for turning all kinds of metal.
It comes with both a 5-inch three-jaw scroll chuck, as well as the more precise 6.5-inch four-jaw independent chuck. The tool-post is a 4-way turret arrangement; add in the follow rest, steady rest, change gears, dead centers and servicing accessories and that about rounds packaged contents.
Buy Grizzly Industrial 10″ x 22″ benchtop metal lathe (Model G0602Z)
Honorable Mention:
BestEquip 7×14" metal lathe (best under $1000)
The BestEquip 7 x 14" mini lathe edges out its expensive competitors from Central Machinery and the Grizzly mini lathe to come out as our best budget Metal Lathe under $1000. The price is a steal for what is essentially a properly featured 7×14 mini lathe.
It has a ¾ HP (550 Watt) motor with continuous variable speed controls from 50 to 2250 RPM; a strong sturdy aluminum build tipping the scale at almost 102 lbs; and a four-way T-slot tool-post allowing the machinist to quickly change tool-tips for both higher quality and time-savings.
BestEquip is also very generous with boxed-in accessories. Ranging from the essential spanners, L-keys and gear-sets to lubricating oil and a full-size toolbox. Where the BestEquip falls short, however, is in the lack of a high-low gearbox for ease-of-use as well as the glaring lack of a digital speed readout and a thread dial on the lead-screw.
Still, for the price that BestEquip comes at, there is plenty of budget left for adequate tooling and accessories.
Buy BestEquip 7×14 metal lathe
Honorable Mention:
Grizzly 7×14" mini metal lathe
Grizzly micro metal lathe (best under $500)
When we look at the smallest of the lathe family: the micro-lathe, metal lathes that provide about or less than 15 cm/6" between the centers, the Grizzly model sticks out as a no-contest win.
Most metal lathes in this price bracket really skimp on power and RPM control. But not the Grizzly. Powering its spindle at a max RPM of 3800, the G0745 is equipped with 1/5 HP or 150-Watt single phase motor with variable RPM control dial from 100 to 3800.
This model has a swing-over size of 4-and-a-quarter inches, while the distance between centers is 6-inches. The whole assembly aside from the belt is made from cast iron. That adds a useful heft to the compact machine at 31lbs. This machine easily fits within a 2-square-ft area.
It is ideal for the space-conscious hobbyist, model maker, or even a professional like a jewelry designer who only needs to turn small parts made from soft metals.
Grizzly is also known for its great manuals, durable products and excellent customer support. Maybe the best part to this one is that this manufacturer give a 1-year warranty with all their machines.
Buy Grizzly Industrial micro metal lathe (Model G0745)
The importance of proper tooling in machine performance
Jet is amongst the trusted names for entry level metal lathes. Their most economical machine starts at around $7,000. There is also the Tormach 8L benchtop going for around the same price.
But even a good lathe can either perform admirably or outright exceptionally depending upon the right tooling for the right tasks.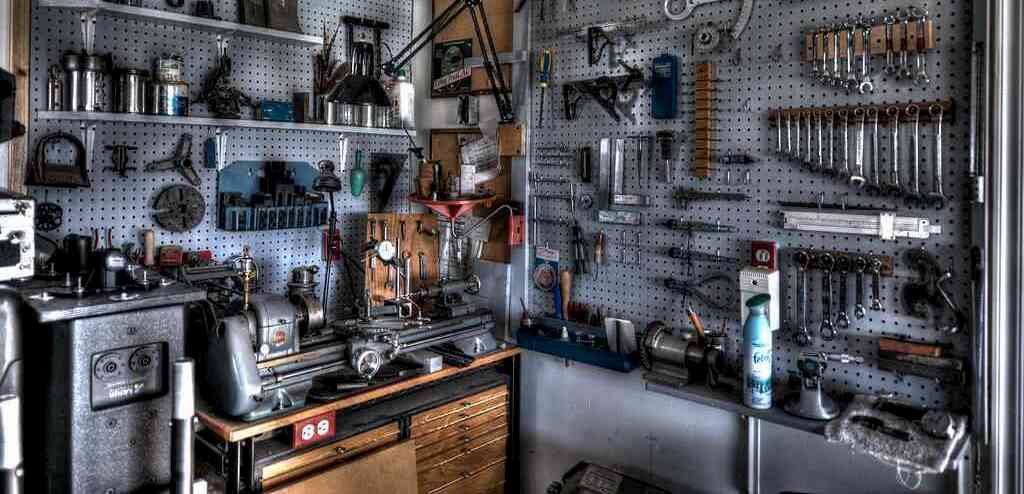 Tooling for metal lathes include:
Tooltips or cutters made from hardened steel or carbide to provide a more forgiving and easier or a more involved but ultimately more accurate cutting results.
Dial indicators and dial test indicators will ensure you can get down to those tight tolerances, down to the thousandths of an inch or hundredths of a millimeter touches.
Various modifications and accessories such as work lamps, way stoppers, post locks and the like will enhance, accentuate as well as bring out the full potential of a machine.
A good thing to remember is that a seasoned machinist usually spends as much on the tooling of a metal lathe, as they do on the lathe itself. It's just that the tooling equipment is purchased over the life of the machine and not at once, so the investment doesn't stick out as much.
More qualitative considerations for choosing a metal lathe
A metal lathe is primarily an inverted drilling tool, in that, when we work on a metal lathe, it is the metal workpiece that is mounted at the spindle (usually by using a chuck) and subsequently rotated at varying speeds while the cutting or shaping tool-bit is kept stationary.
Ideally, the tooling is mounted on a very solid piece of metal brace known as the tool-post, itself situated on an even stronger – and heavier – mount that slides back and forth, called the "apron", part of the carriage assembly.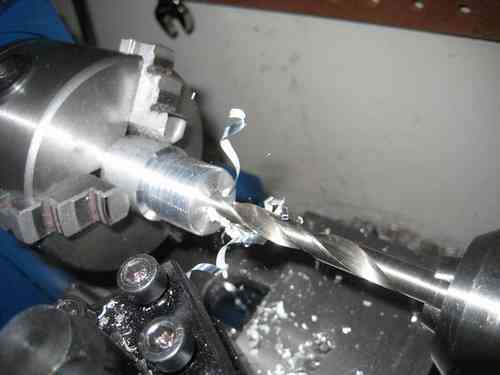 Other standard features include a tail-post, also called a tailstock, that allow for drills and boring tool-bits to be attached and used against the workpiece.
This basic structure is further accentuated by precise movement controls for the tool-post mounting, as well as adjustable lengths for the tail-post.
These controls are usually in the form of little and big wheels that allow for fine adjustments against a precise scale on the lathes.
Additional quality-of-life features and bells and whistles include high-grade locks so that the tool-bit could be locked on any arbitrarily desired position between the centers of the lathe. As well as safety functions to make a machinist's life easier.
A metal lathe is rightly considered an essential machining tool with a pragmatic and straightforward learning curve. We hope that our guide helps you along in your journey of metal turning.