Construction 3D printing, surprisingly, has been in the making for almost as long as other forms of 3D Printing technology. With automated bricklaying technologies being experimented with as early as the 1950s, Construction 3D printing has always had a strong focus on making the arduous process of construction more streamlined.
It should be noted, however, that almost all current construction 3D printing technologies are only able to construct the gray structure i.e. the walls, the floor and in some cases, able to lay the roof as well as pump in the foundation.
As it stands, the rest of the components that make the skeleton of a building inhabitable such as windows, doors, electrical wiring etc. all have to be done manually. This can be likened to how a 3D printer can only 3D print the required shape, but all the other bells and whistles have to be added afterwards via post-processing.
Unlike Desktop 3D printing or even factory production-grade 3D printing, all but one construction 3D printing technology are based on the tried and tested extrusion type 3D printing technique.
While there are variants as to the formulation of the mixture extruded, as well as the extrusion nozzle design, the biggest differentiating factor comes in the form of how the 3D printing nozzle of the construction 3D printer is suspended.
Broadly speaking, this classification is:
Gantry Style construction 3D printers
Robotic/Mechanised Arm Based construction 3D printers
Gantry style construction 3D printers
Gantry Style construction 3D printers get their name from the gantry-like overhead rails that are used to mount the construction 3D printing extrusion nozzle.
The earliest, and perhaps the most touted of gantry style construction 3D printing technologies, is the patented Contour Crafting technique by Professor Behrokh Khoshnevis.
Contour crafting
Originally conceived as a way to compete with the then-existing 3D printing technologies, namely FDM, SLA and SLS. Contour Crafting was patented originally in 1995. It was not until around 2000 that Professor Khoshnevis and his team began building up a single system of autonomous construction on the basis of the patented technique.
Contour crafting construction 3D printing technique
In a nutshell, Contour Crafting is basically the same as taking an extrusion type desktop 3D printer and increasing its size by many magnitudes. The flattened earth or foundation serves as the print bed. All the XY as well as Z Axis arms are made from suitably rigid and strong steel beams and rails.
As for the print head, a nozzle of a suitable diameter is connected directly with a liquid mix of concrete, that is pumped via a motor at the required rate for layer deposition. This allows for the walls of the structure to be constructed via construction 3D printing. This print head is mounted atop the gantry-style XYZ construct, allowing for complete three-dimensional freedom for 3D printer within the printable area.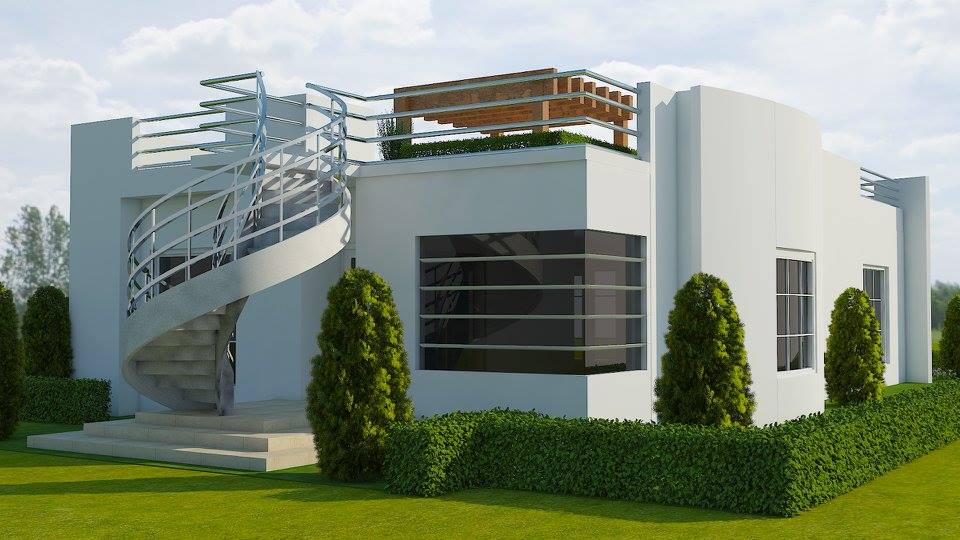 Once the walls for a floor are all complete, an optional crane-like attachment alongside the print head is used to place the roof that would serve as the printing bed for the second story and so on.
It should be noted that to date, Contour Crafting has not been commercialized and has only been demonstrated as a Proof of Concept on a "lab" scale.
It should further be noted, then, that while Contour Crafting itself has not been commercialized. All the existing commercially available gantry-style construction 3D printers such as the BOD 1 and 2, Vulkan II, and especially the Winsun are basically a spin on this same technique.
The Winsun in particular was even controversially alleged to be patent infringing upon the Contour Crafting technique. The fact that it was Winsun that constructed the futuristic Dubai Future Foundation Office is a testament of equal measure to the financial viability and scalability of Contour Crafting, and gantry-style construction 3D printing Techniques in general.
Robotic arm construction 3D printer
While gantry-style construction 3D printers have taken the lead in terms of commercial projects, the sheer size of gantry-style construction 3D printers means that transportation, set-up and dismantling of the 3D construction printer requires a very large amount of financial as well as technical effort.
This is also one of the reasons why gantry-style construction 3D printers have become almost synonymous with prefabricated 3D printed houses.
Another competing style of construction 3D printer is the mechanized or robotic arm construction 3D printers such as Cybe line of construction 3D printers as well as the impressive Apis Cor construction 3D printer.
The Robotic Arm construction 3D printers all stem from one goal: to make the 3D construction printer more mobile, less cumbersome, and more compact. This allows construction 3D printers such as the Apis Cor to be transported on a flatbed truck instead of inside a container or containers part-by-part as would be the case with gantry-style construction 3D printers.
Benefit of Robotic arm construction 3D printer
Robotic arm-based construction 3D printers also benefit from a higher print "resolution" allowing for the finished structure to not have as apparent layer lines as Gantry-style construction 3D printers, such as COBOD's the BOD 2, do. This makes finishing a much quicker process as well.
Drawback of Robotic arm construction 3D printer
The downside of-course is the fact that robotic arm construction 3D printers have limited reach as compared to gantry style construction 3D printers that could potentially be easily scaled up or down based on the size of the house or building to be 3D printed.
D-shape construction 3D printing technology
D-Shape was invented by Enrico Dini originally in 2005, and he was granted the patent for this in 2006.
But what exactly is D-Shape?
Just the only large-scale sand binder-jetting 3D printer ever conceived.
D-shape 3D Printing Technique
Dini specifically designed the 3D printer for being able to sinter together livable buildings made out of sand, seawater and epoxy. However, after running into issues with the epoxy in the mix for binding purposes, Dini reworked his 3D printing process to incorporate a patented magnesium-based binder. For which he was granted a patent in 2008.
The printer itself consists of a large 6 meter by 6 meter aluminum frame and tall aluminum beams upon which the binder jetting print-nozzles are attached.
A very large quantity of sand is placed that acts as both the foundation as well as the building material during the 3D printing process. Once the desired object has completely been 3D printed, it has to be manually excavated out of the excess sand with good old-fashioned shovels.
D-Shape stands uniquely due to both the process that it has upscaled, binder jetting, as well as due to it being the only 3D printing process that has been designed solely to 3D print actual houses and buildings with sand.
The resulting 3D printed structures have a sandstone-like finish and have a much smoother and higher resolution print quality. The resulting structures from binder-jetting are devoid of the visible layer-lines that basically all other extrusion construction 3D printing processes resultantly have.
All that being said, however, D-Shape also has yet to produce an actual livable 3D printed house. Still that has not reduced its inventor's ambitions in any way as actual 3D printed houses made out of sand and water are very much what Monolite UK (founded by Dini) wishes to be able to do in the future.
D-Shape has also been chosen as the potential construction 3D printing partner of the European Space Agency for 3D printing moon-bases on the moon out of moon dust or lunar "regolith" as it is also known.