Even before the first ever hot glue gun, the Polygun, hot melts had been tasked with weathering against the unforgiving nature of their environment.
In this detail guide, we will be taking a look at:
The general water resistance and waterproof nature of hot glue,
whether or not it is suitable for waterproofing,
the effects of water when hot glue is used with different materials,
and also whether hot glue is a good candidate for outdoor usage.
How waterproof is hot glue in general?
Hot glue itself is waterproof, with a big asterisk. What this means is that if we were to spread an even sheet of hot glue out on a surface, and then pour water on the area covered with the hot glue, the water would not penetrate through.
The main ingredient of hot glue is an amorphous polymer, or plastic in common terms. Polymers when cooled to a solid state, all consist of long chains made up of a fundamental polymeric unit repeated n number of times. These long polymeric chains within the surface of the polymer form a spaghetti-like structure full of twists and turns that form an all but impossible path for water molecules to traverse through.
Since the water molecules cannot get through these twisty turning paths within the polymeric surface, almost all polymers bar a few are intrinsically waterproof.
All of the common polymers used to make both consumer-grade, as well as industrial grade, or even custom blended hot glue are effectively impermeable. So almost all combinations of hot glue blends are, in turn, waterproof.
Where things get a bit tricky is when considering the adhesive properties of hot glue. After all, what good is a waterproof glue, if the adhesive bond that it creates comes undone when coming in contact with water.
Will hot glue hold under water?
All hot glues work by being able to melt when subjected to a suitable temperature, then being able to solidify back either when cooled or when pressure is applied.
Another way to look at this is that the hot glue expands into a molten state upon heating, but then contracts back to its original volume when the adhesive bond is formed. This property is known as thermoplasticity. It is the property that makes hot glues so convenient. Unfortunately, it is also the achilles' heel of hot glue when it meets water.
Exposure to water generally causes a sudden decrease in temperature which in turn causes the hot glue to contract further than its adhesive state. This can create cracks, holes, or even tiny seams within the hot glued joint. Before you know it, the kinetic energy of moving water on the object takes care of the rest of the adhesive bond and the hot glue joint gives way in due time.
All hot glues contain additional plasticizing chemicals that help to maintain a defined temperature range. But regardless of the polymer used, no hot glue is ever completely suitable for underwater.
This also makes hot glue a very poor candidate for waterproofing, as the changes in temperature would almost certainly break the hot glue seal eventually.
Effects of bonding surface materials
Hot glue is unique in the world of adhesives due to its ability to not only bond with itself effectively, but also with both porous and non-porous surfaces. Of course, we cannot expect standard EVA-based hot glue to work for high-stress applications.
It may be worth it to check with your hot glue vendor to see if they offer high performance hot glues made from polyolefin (APAO), polyamides (PA), Acrylic, or Polyethylene (PE, PEMA, PEnBA).
Some manufacturers may also offer custom blending with a range of polymer choices that may include many more polymers than the ones mentioned here.
While you probably will be able to find effective hot glue for wood, plastic, glass, fabric and even metal, the unique properties of these materials mean that all of them would behave differently when submerged or exposed to water.
Water resistance of hot glue on wood
When it comes to water exposure, wood is arguably one of the worst. Wood is a hydrophilic, porous solid. What this means is that unless you have applied a water seal to the wooden object, wood will soak up water and get bloated over time.
This unfortunately applies additional pressure on the hot glued joint in addition to the thermal contraction, so expect the wooden hot glued part to be non-water resistant.
Water resistance of hot glue on plastics
It is not recommended to expose a hot-glued plastic object to water for long or repeated durations. And most certainly not if this is a water-specific project such as a model boat or the like. One could get away with a short dip into ambient-temperature water only.
Plastics when attached to other surfaces such as wood, glass, metal or fabric would generally react badly to water exposure as well, since the plastic parts are generally small enough that the little hot glue holding them would contract and seemingly let go of the bond over time.
Water resistance of hot glue on glass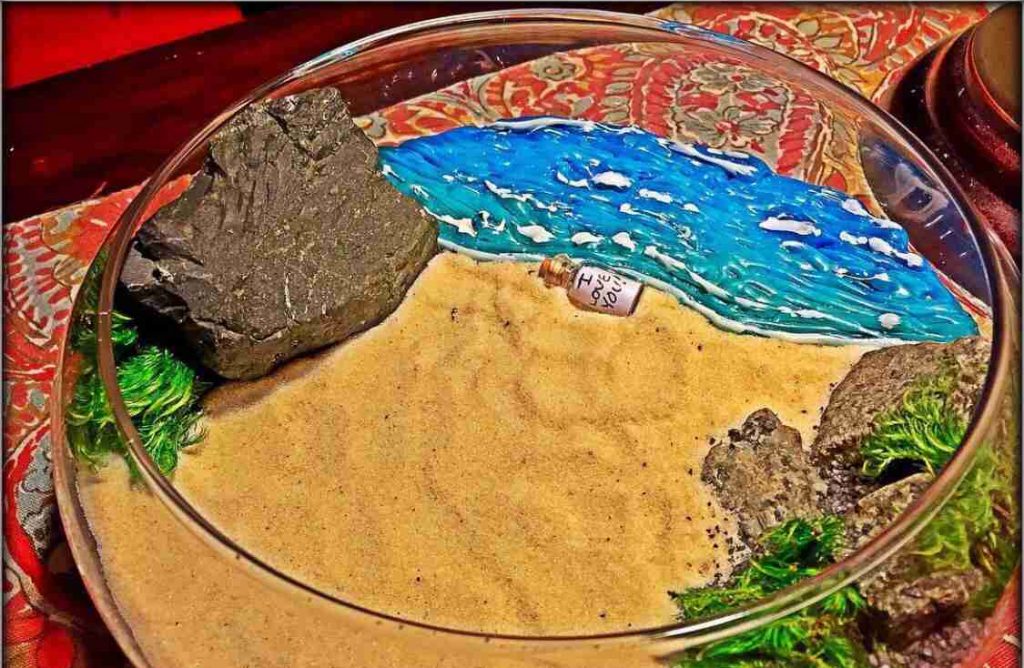 Glass on its own is also an amorphous solid. And usually, glass is a very non-porous surface. Glass also exhibits thermal expansion and contraction, albeit in a much more controlled range than hot glue or other thermoplastics.
Glass can sustain hot or cold temperatures in its own body for extended periods of time, as it is a bad conductor of heat. Albeit, still better than wood and some plastics. This may weaken the hot glue bond if it is exposed frequently, eventually failing over time. Specially if the glass is submerged underwater.
Water resistance of hot glue on fabric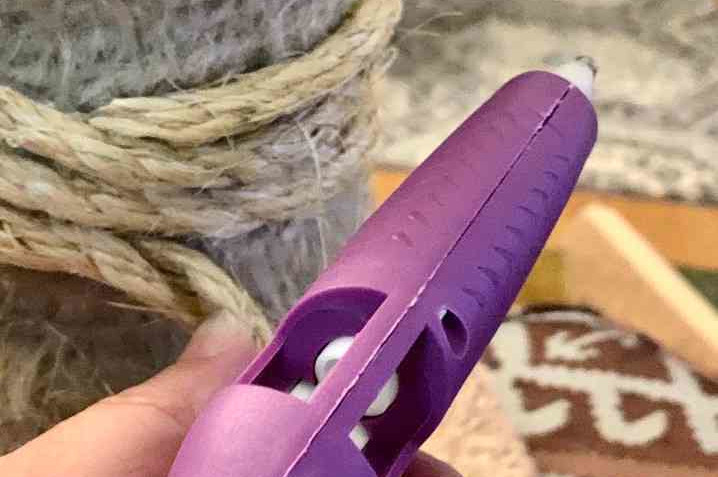 Generally, fabrics are classified as woven when the fabric is made from yarn or non-woven when the fabric is made directly from fibers joined together. Both types of fabrics tend to provide a very strong hot glue bonding surface. But woven fabrics by nature provide hot glue a chance to cover almost all sides of a fabric at the bonding site.
Fabrics are usually permeable, so most of the water would pass through. All this usually means that the hot glue bond between two fabrics would be fairly strong especially if the hot glue is high-grade.
But do not expect plastic gems and other decorative hot glued parts to survive indefinitely in the washing machine or the dryer.
Water resistance of hot glue on metals
Hot glues formulated for metal are usually specialized in nature. Therefore, it is hard to make any generalizations about them.
Metals are excellent conductors of heat, so any change in temperature in the metal would be transmitted to the hot glue fairly quickly. Any sudden drop in temperature from water exposure would also force the hot glue to contract. Depending on the stress at the joint, the amount of hot glue used, and also the type; the joint may just weaken, or it may give out completely after some time.
Should you use hot glue on outdoor projects
Hot glue, as mentioned previously, is made chiefly of plastics. As such, standard hot glue is fairly susceptible to UV degradation. All except polyethylene-based (PE, PEMA, PEnBA) hot glues suffer very detrimental UV degradation.
Thing is though, hot glued items placed outside don't just suffer from ultraviolet light. The standard day/night cycle can cause egregiously frequent changes in temperature. Especially if the glued item is placed in direct sunlight.
If a microscopic crack does develop due to thermal expansion and contraction, it would most certainly be further deteriorated by the tiny particles of dust bombarding it in a wind gust.
If the project is such that you would only take it out into the open every once in a while, then that generally should not be a problem at all. Even with the cheapest hot glue.
But if you are planning on using a hot-glued item for extended periods of time out in the open, and especially if the hot glued joint would have additional tensile stress, from for example, being hung up on a wall or post, then do not expect it to last very long.
The best hot glue for waterproof and outdoor use
Before you completely give up on using a hot melt glue on the next project, you may want to have a look at polyurethane reactive hot melt glue (PUR).
PUR works by creating a very strong structural bond that cures as the PUR glue reacts with ambient air over the course of 48 hours to form a bond that is epoxy-like in strength. PUR bonding is actually much stronger than traditional hot glue even after an hour or so of curing. And it continues to get stronger over the first 2 days.
It is also waterproof, dust-proof, insulating and resistant to temperature changes. It is also more UV resistant than normal hot glue.
It does have some drawbacks, however. PUR is not a conventional form of hot glue. It has a finite shelf-life, is usually sold in tubes instead of sticks, and has specialized PUR hot melt guns that it is dispensed from.
It is considerably more expensive when compared to conventional (not high-performance) hot glue.
PUR was designed to overcome the shortcomings of conventional hot glue while still retaining its ease of application. If you can stomach the cost of PUR, then it is one of the best and easiest to use glues available on the market. For all other general adhesive jobs, regular hot glue would do just fine.