Home design doesn't have to be an overly complicated task. It takes just some personal inspiration, a little artistic touch and a good visualization tool to be a successful home designer.
In this guide, we are looking at the top 3 home design software that are easy to use, yet powerful enough to complete serious projects.
Disclosure: This post contain affiliate links, we may earn advertising commissions for sharing products we know and love.
These programs may be the ideal tool for a to be real estate developer looking to complete design and remodeling work from time to time, or casual user who design as a hobby or even an interior design student preparing for the NCIDQ exam.
What makes a home design software user friendly?
Three-dimensional design software can be quite overwhelming at first. Many home design applications will help us plan and visualize our space. But then again, a number of key items must be in place for the process to be as quick and effortlessly as possible.
A potential issue is that, often the usability of these types of application may impede on the overall flexibility of the program to allow the user the freedom to express their creativity.
On the contrary though, a more systemized approach eliminates the chance for fundamental errors. Most of the home design software we've found do an impressive job at being simple to use with powerful features.
Some of the considerations are whether the program have:
An intuitive interface and efficient workflow.
Time saving features such as automatic tools and wizards for repetitive tasks.
An active community to share ideas and learn from.
Readily available guides, video tutorials and online courses for getting up to speed.
Below are the top 3 home design software that tick all the boxes without sacrificing in terms of features and functionality.
This guide uses a user friendliness to overall functionality score as a gauge. Where ease of use is scored from 0 to 4, with overall functionality scored on the same scale. This makes it easy to find a comfortable point in a range where all our needs are dealt with.
1. Home Designer Suite (Editor's pick)
Easy score: 4 | Functionality score: 4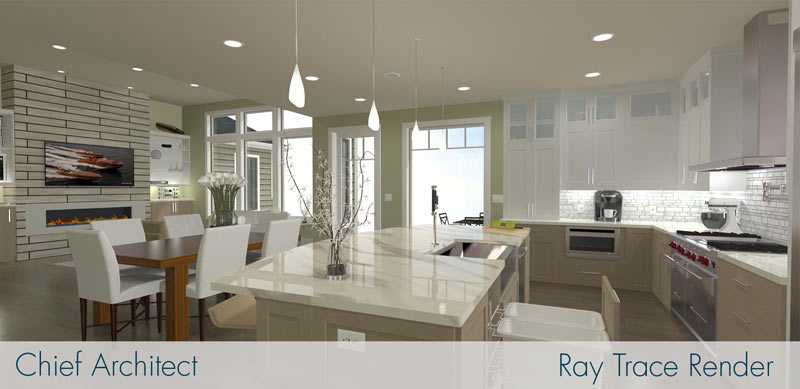 Home Designer by Chief Architect is one of the most respected names in the home design software category.
It can be used to complete a project from inside and out. Home Designer is used by both pros and beginners. It has many automatic tools and wizards for completing the repetitive tasks, making the process relatively quick and easy.
The layout is simple enough so that it provides the most efficient workflow. Each button gives a tooltip giving the user a clear function of the button.
Floor plans can be created with simple click and drag functions. Items are added with simple mouse clicks in a 3D environment.
The objects catalog for staging can be up to current trends giving a good representation from the photorealistic virtual rendering to the actual finished work. Objects include plants, appliances and light fixtures. Custom objects can also be imported.
Some of the basic functions include:
Structural design
Interior design
Landscape design
Framing
A large archive of how to videos and tutorials can be found. There is also an active online forum where users discuss design techniques, building code compliance and other related topics. It is available for both Mac and Windows.
Buy Home Designer Suite By Chief Architect
2. Live Home 3D
Easy score: 4 | Functionality score: 3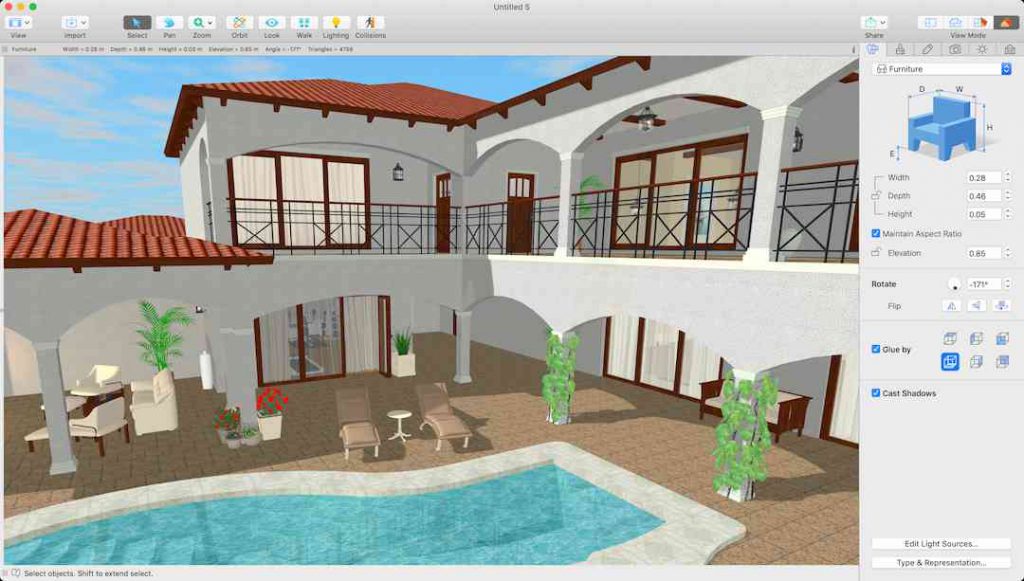 Live Home 3D is a house planning and design application with surprisingly robust features and functionality. The controls are very minimal, making it easy even for someone with zero CAD experience.
What sets this one apart is that it is available for Windows, Mac and IOS. All offered at very economical pricing.
Some basic functions are
Floor plans
landscaping
Interior design
The rendering system is also quite impressive. It contains a large catalog of furniture models and objects for virtual staging in a 3D environment. Projects can be exported in various formats.
There is also a large community of user, many online tutorials along with a support forum.
3. SketchUp (Free and paid version)
Easy score: 3 | Functionality score: 4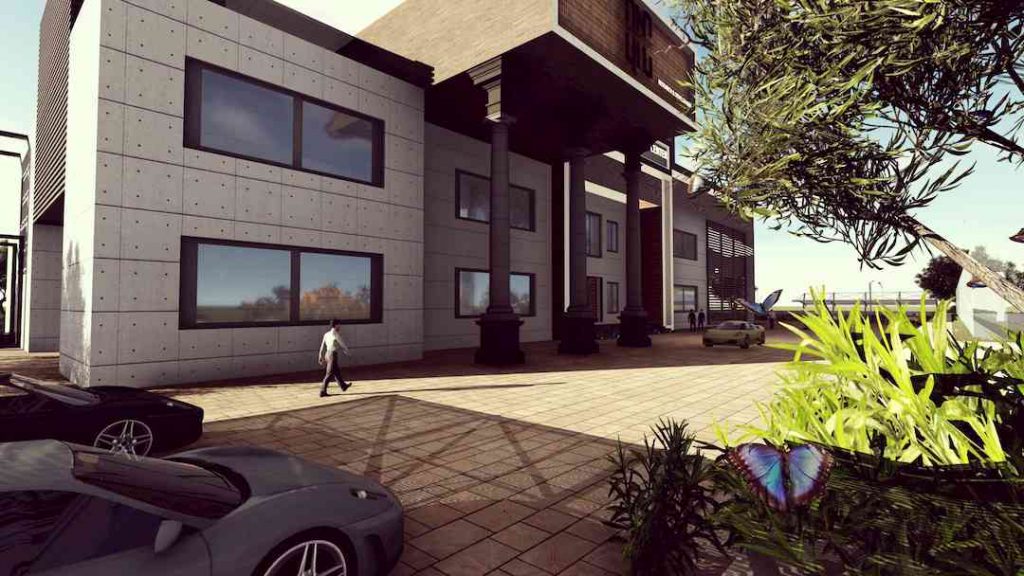 The thing that makes Sketchup a favorite in the design community is that it gives complete freedom and flexibility to design every aspect of a project. And it does so in relatively simple and intuitive click, drag and drop functions that draw lines and objects.
It contains a large asset library that can be easily imported into projects.
Many designers and professional architects use Sketchup. It was originally created by Google and later acquired by Trimble in 2012. A large number of video tutorials exist for home and landscape design with this program.
There is also an active forum where users share insights. Sketchup forum
Downside
Sketchup is a general-purpose 3D modeling design software. Which is why its usability score is where it is at. While you can in fact create designs with precise linear and angular dimensioning with SketchUp, it is all done in an open 3D environment. Which may or may not be ideal to some.
Another possible drawback is that it is a subscription-based program that can be a bit pricy to start. They do offer student discounts for those who are currently enrolled.
Bonus: Punch! Home & Landscape Design
Easy score: 3.5 | Functionality score: 3
Punch Home & Landscape's graphical interface is intuitive and efficient. Views can be placed side-by-side giving the ability to seamlessly work from different perspectives.
Some of the basic features are:
Floor plans
Framing
Interior design
Landscape design
The interior design tools come with plenty of 3D objects for staging.
It has automatic tools and smart features like a cost estimator and auto framing.
Downside
Smaller userbase. The graphics engine is not the best. For someone who intends to use this program for more serious or professional projects, it may be best to choose a program like Home Designer Suite by Chief Architect. Both have similar learning curves. Any noticeable rise in the learning curve will be rewarding shortly after.
Buy Punch! Home & Landscape Design
Bonus: Virtual Architect Home Design
Easy score: 3 | Functionality score: 2
Virtual Architect is known for its wizards that helps design homes in hours instead of days. The smart wizards can be used for designing landscapes, kitchens and other spaces in the entire house building process.
The wizards literally walk the user through the process step by step until the house design is completed. User is given choice to fully customize their design by choosing materials, placement and dimensions.
Downside
May be lacking in flexibility for a more skilled or professional designer. Also, the rendering engine is not the greatest. If one of your focus is photorealistic 3D presentations, then don't get this one. There are not many online tutorials available, but it is easy enough to not need them.
Buy Virtual Architect Home Design
Bonus: Spacedesigner3D (Online)
Easy score: 3 | Functionality score: 2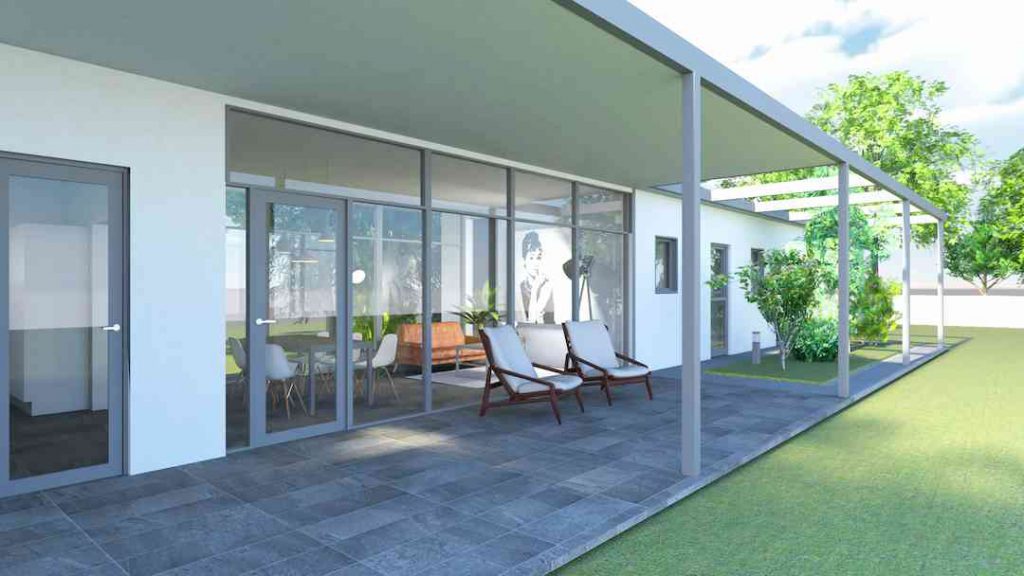 Spacedesigner3D is an online platform specializing in floor plans and interior design.
It has one of the cleanest interfaces around. Design and visualizing on the platform are fairly straightforward. There are lots of video tutorials to get design tip and ideas from.
The rendering engine is also quite impressive for an online platform. Being in the cloud also gives it a more seamless experience.
Downside
Lacks flexibility
Monthly subscription
Bonus: Sweet Home 3D (free and paid)
Easy score: 2| Functionality score: 2
Sweet Home 3D is another economical option with a quick and easy interface and workflow. It uses a simple drag and drop interface that makes placement and dimensioning a breeze.
It has been around for some time now. There are many beginner friendly tutorials readily available online to get up and running.
It is the perfect software for toying around with floor plans and interior design ideas. It has a decent 3D engine for walkthrough animation when staging a space. It is available for Mac and Windows.
Downside
May be limited in features and flexibility.
Bonus: TurboFloorPlan Home & Landscape
Easy score: 2 | Functionality score: 2
Turbo Floor plans actually has a lot going for it. It has a fairly easy to use interface that gives flexibility over design details.
There are automated tools for designing various spaces. Large catalog of plants and objects for interior and landscape decorations.
The most impressive yet are some of the landscaping features it has.
Downside
There are not many online tutorials available. The graphics engine will get the job done but can be an eye sore.
Buy TurboFloorPlan Home & Landscape
Bonus: DreamPlan Home Designer
Easy score: 2 | Functionality score: 2
DreamPlan Home Designer has a very minimal user interface. Like many of the others on this list, it uses interactive wizards to make the design process fast and easy. Its available for Mac and window.
Some basic functions are:
Interior design
Decking
Landscaping
Downside
One of the shortcomings of this one, as with a few of the others on this list is the low definition rendering capabilities. Textures for high detailed objects such as grass and landscapes may appear blotchy or pixelated, but they serve their purpose.
Final verdict: The easiest home design software to use
There are design programs for experimenting and others for getting important work done. Home planning and visualization technologies exists that will fit a creator's distinct requirement. You may find that the fancy complicated program only gets in the way of what really matters.
In the case of simple design software to learn, the clear choice was Home Designer suite. It is not too difficult to pick-up and start drafting right away and it offers an extensive toolset, arguably the best in its class. We hope that this guide help to clarify some of the inefficiencies in the decision process. Thank you for reading.