Microscopes are a wondrous invention. Allowing humanity to peer into the previously unseen and unknown, and in doing so, enabling humankind to learn so much about ourselves, the environment, and mother nature.
Disclosure: This post contain affiliate links, we may earn advertising commissions for sharing products we know and love.
The microscope as we know it, could never be disentangled from the scientific field of microbiology, where its breakthroughs first ushered revolutionary changes to our understanding. However, the microscope landscape can be categorically difficult to maneuver for those starting out.
In this article, we will be taking a magnified look at some of the best microscopes for microbiology. The microscopes on this list are well suited for microbiology students and beginner to advance bioscience enthusiasts. Considerations are made in terms of available technology, value, as well as specifications.
Compound light microscopes, the ideal microscope for microbiology
As fantastic and amazing as some of the high-end microscope technologies highlighted below are, for microbiology students and leisurely enthusiasts, they are little more than really expensive toys they can look at. Getting the hands on one is something to be seen.
So that leaves us with a few options. When it comes to microbiology, it is hard to fail with the tried and tested compound light microscope. It is generally the go-to microscope for microbiologist.
Compound light microscopes were once the domain of expensive optics manufacturers only. At least if one wanted a reliable compound light microscope, one's choices were usually limited to an expensive model from Leica, Olympus, Zeiss or Nikon.
And while these brands are still at the top when it comes to research-grade highly precise, low-tolerance compound microscopes, nowadays there exist many brands that have brought the power of advanced compound microscopic analysis within the budgetary constraints of students, hobbyists and enthusiasts.
Best microscopes for microbiology available today
See, What you need to know about compound microscopes and microbiology below for a detail look at how the features of the microscopes on this list are used for microbiology studies.
Budget Monocular Options
1. JNK Edu M50A
The JNK Edu M50A is a great starter microscope with a single eyepiece mounted at 45 degrees, adjustable over 360 degrees (rotational) with 10x and 20x widefield optics and standard achromatic objectives of 4x, 10x and 40x.
The unit features a dimmable 3W LED lamp in the base, with a 5-hole disc diaphragm and NA0.65 condenser which gives it a maximum resolution of around 0.5 micrometers with the 40x objective. It features rack-and-pinion focus controls, and a simple plain stage.
The JNK Edu M50A features an all-metal body, and a locked-in eyepiece.
2. Amscope M150-C
The Amscope M150-C is quite similar to its contemporary budget monocular microscopes. Like the JNK model, it features a single eyepiece mounted at 45 degrees, adjustable over 360 degrees (rotational) with 10x and 20x widefield optics and standard achromatic objectives of 4x, 10x and 40x.
Similar dimmable 3W LED lamp in the base, with a 5-hole disc diaphragm and NA0.65 condenser, coarse and fine focus controls, a plain stage, as well as an all metal body, and a locked-in eyepiece.
Where the Amscope offering pulls ahead is by allowing battery operation via 3 AA batteries, in addition to being usable with the included mains adapter. Amscope also offers 5-year warranty on microscopes as standard against manufacturing defects.
Value Binocular and Trinocular options
Trinocular microscopes have a third eyepiece for camera attachment.
3. OMAX M82ES/M837ZL
The Omax M82ES along with its competitor Amscope is arguably one of the most famous budget binocular student microscopes available.
For the price, you get 4 objectives at 4x, 10x, 40x and 100x (oil immersion) and two sets of eyepieces at 10x and 20x. You also get a dimmable LED lamp with a NA 1.25 Abbe condenser with iris aperture.
This model comes with a 360-degree rotatable mount. The Omax model provides the fine focus control knob and the coarse focus control knob on either side of the all-metal body.
It also features a mechanical stage that can be adjusted along the X-Y axes. Omax also provides a 5-year warranty against manufacturing defects.
Omax makes a similar trinocular model; the M837ZL. Differentiating features between the two include the eyepieces, with the trinocular model opting for 10X and 25X eyepieces. Additionally, the LED light is user-replaceable in this model which will certainly help with the longevity of the device.
Omax also produces a Kohler attachment that according to them should fit both these models. The camera attachments, however, are nothing to write home about and a generic DSLR (or even a smartphone camera) adapter would easily out-perform them.
Buy the OMAX Kohler Attachment
4. Amscope B120-B/T120-C
The Amscope B120-B is the other part of the pair of best-known value microscopes for microbiology student.
Like OMAX, you get objectives at 4x, 10x, 40x and 100x (oil immersion) and two sets of eyepieces at 10x and 20x. You also get a dimmable LED lamp with a NA 1.25 Abbe condenser with iris aperture. It also features a mechanical stage that can be adjusted along the X-Y axes, fine and coarse focus control knobs on the main body.
But the main differentiating factor between this and the OMAX is the professional 30-degree inclined Siedentop binocular head with 360-degree swivel.
Like the OMAX, the Amscope also has a rich set of accessories, ranging from darkfield to Phase Contrast lens kits as well as an assortment of cameras and mounts. Amscope gives its standard 5-year warranty on this model as well, so that is definitely an added peace of mind.
Its trinocular counterpart only changes one of the eyepieces from 20x to 25x, but unfortunately does not provide a user-replaceable LED lamp.
Best research grade microbiology microscope
5. Amscope T610-IPL
The Amscope T610-IPL is a fully packed Kohler LED illuminated brightfield compound microscope with an iris aperture-controlled condenser that features Plan Infinity-corrected optics.
It features a backward nosepiece (for more workspace) 4-objective lens configuration with 4x, 10x, 40x and 100x (immersion oil) infinite-corrected objective lenses. A pair of 10x extreme widefield magnification eyepiece lenses, and a third port for use with a camera mount.
A 3D (X-Y-Z) mechanical stage so that you do not have to manually adjust the slide after placement. 360-degree swivel with 30-degree incline on the eyepiece head mount and a coarse-and-fine focusing system.
Suffice to say, Amscope made very little compromises with this model. It also has an assortment of accessories and attachments to enhance capabilities to fit research needs like darkfield, phase contrast and camera attachments.
It is a good fit for a microbiology research student or even if you are just getting really serious as a hobbyist, the T610-IPL gives good results on a consistent basis.
6. Leica DM300
This microscope is made by one of the more trusted names in the microscope landscape.
What you need to know about compound microscopes and microbiology
The typical compound light microscope for microbiology consists of a number of components that are essential for effective use:
the objective lens(es) and optical lens(es)
The Illumination aperture and the light condenser
Focus adjusting assembly (coarse, fine, mechanical stage)
The lenses consist of: a very short focal-length bearing objective lens (usually mounted as a trio or a quartet arrangement – scanning 4x, low 10x, High 40x , oil immersion 100x) – so called as it is the one that directly faces the object specimen. A second magnification lens often called the eyepiece or the optical lens with magnifications of 10x to 30x through which the magnified specimen is observed.
The Illumination aperture and the light condenser are mainly needed to control the contrast of the specimen image especially at the highest magnifications. The illumination aperture – with a Kohler illumination set-up allows fine-grain control over the amount of light that the specimen is exposed to. The condenser – ideally an Abbe condenser with iris aperture – controls the focus or spread of light which should ideally match the focal length of the objective lens being used.
Lastly, the focus adjusting apparatus consists of a big knob for coarse movements of the eyepiece and objective lens assembly. Whereas a smaller dial or knob allows for finer adjustments. This coupled with a mechanical stage allows the microbiologist to freely adjust the apparatus in fine motions to attain the sharpest possible focus for viewing, observing and/or imaging.
What is important here, is that the total magnification achievable is a simple multiplication of the magnifying powers of the objective and the optical lenses.
But resolution, or the resolving power, is not. It depends much more on the quality of the optics (semi plan, plan and infinity corrected objectives provide the best real resolution), as well as the illumination/achievable focus.
An equation to estimate the resolving power of a microscope set-up with both a condenser as well as an objective is given below:
R = 1.22λ / (NA(obj) + NA(cond))
R is the absolute resolving power. λis taken as the wavelength of normal light (around 550 nanometers as a mid-spectrum value). Whereas NA (obj) and NA(cond)) are the numerical aperturevalues of the objective and the condenser lenses respectively.
The answer comes out as the minimum discernible distance between two points under observation (usually in micrometers).
That is why the general ideal magnification with a compound microscope is considered to be the 400x mark since dry objective lenses cannot really resolve more detail even at a higher magnification. 1000x magnification (and beyond) are only useful with oil immersion objectives that have a theoretical resolving power of around 0.2 micrometers.
Microbiology students – especially those observing bacteria and protozoa should be familiar with oil immersion as that is an essential technique to view the sub-1 micrometer specimens.
Choosing the ideal microscope for different branches of microbiology
As students would already know, when you are observing specimen as small as most bacteria, protozoa or even tiny algae, no amount of resolution is too high. So, for studying these teensy specimens, a good oil immersion lens is a must-have.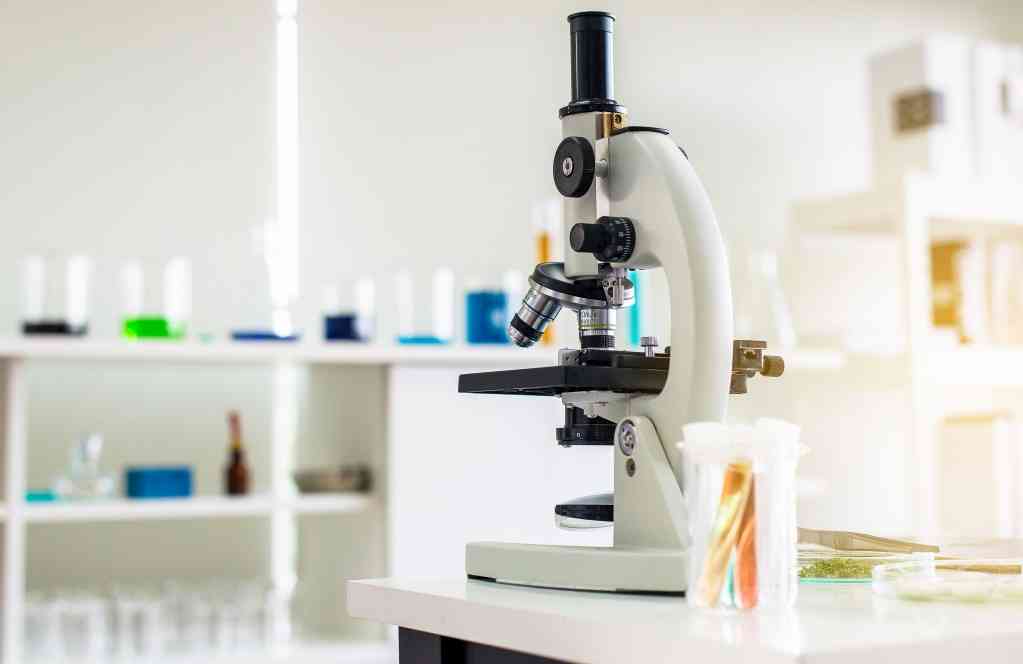 If your discipline is primarily nematology, mycology, or if the focus of your study is on bigger specimen, however, then you can get away with just the 40x dry lens as the highest magnification.
How to get high-end microbiology microscopes for a fraction of the cost
Now that you have seen our recommendations, here is a word of wisdom with regards to paying more for features on a compound microscope: As a general rule, compound microscopes are made of modular parts.
This is especially true with the standard DIN objective lenses. So long as the construction is physically accommodating enough, one can save a lot of dollars by buying preowned name-brand parts instead of paying in the thousands for a "feature-rich" compound microscope.
While the same may not hold true for proprietary inifinity-corrected systems, it may still be more economical to search for the cheapest compatible accessories instead of buying an all-in-one expensive model.
The same is even more true if you know the workings of a compound microscope well. That is why we tried to explain the main functions of a microscope in this article too.
An old but still really high-quality name brand microscope such as an Olympus, American Optics Spencer, Leica or even a Nikon or Zeiss can be bought off eBay or other used sale sites for as little as a few hundred dollars. With a little more money and accessories added-in, one could DIY a much higher-end microscope than what money can buy new, even when compared to something that would cost into the thousands of dollars range.
That is why it would always pay dividends to first understand the microscope that you are using while learning to produce the best possible results. In the longer run the knowledge gained about the equipment helps get the most out of your money and out of higher-end equipment as well.
Types of high-end microscope technologies for bioscience
Microscope technology right now is an exciting field of its own. They are used for research in many disciplines of both academic science as well as numerous large-scale industries where the pursuit of the next big thing has led many to focus on getting clarity on the smallest – in terms of physical size – technological and biomedical innovation.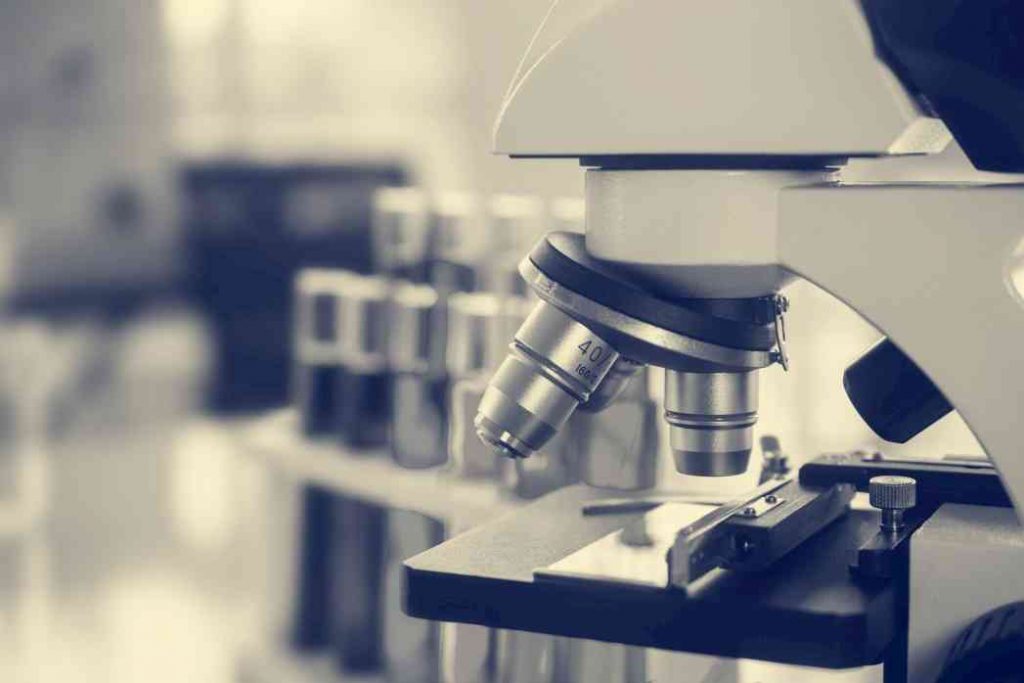 These guys spare no expense in the development of microscope technologies, with numerous breakthroughs in the high-end scale such as
Scanning Probe Microscopy – a technique that uses surface probes to gain an unprecedented scan of the sample surface, Atomic Force Microscopy is currently the biggest innovation in SPM for Microbiologists;
X-Ray Microscopic imaging – using soft (low-energy) x-ray beams allows scientists to achieve high-resolution 3D models of objects that covers both the exterior as well as the interior structures;
Fluorescence Light Microscopy – that uses a high-intensity flourescent light source (from visible through to UV) on the microscopic sample to better highlight and resolve details;and of course,
Electron Microscopy and Cryo-EM – Complex microscopic apparatuses that rely on controlled electron beams that has allowed scientists around the world to gain an unprecedented understanding of our world down to the atomic scale.