Consumer 3D printers are delicate machines crafted from metal and plastic. And as such, they are best kept in correct working order through routine servicing, cleaning and maintenance. In this article, we will be looking at a very important aspect of 3D printer maintenance: Lubrication.
Disclosure: This post contain affiliate links, we may earn advertising commissions for sharing products we know and love.
The parts that needs to be lubricated on a 3D printer
In a nut-shell, all the parts that move against another surface require at least some lubrication in order for the printer to operate smoothly, without friction-related wear and operational errors.
Most important of all, is the Z-axis threaded rod and nut used to move the print-head in terms of height from the print bed. The other lubricant hungry parts are the X-Y guide-rails for the print-head and print bed, as well as the bearings fastened along the railings for movement.
Almost all consumer 3D printers have a metal-on-metal contact on the Z-axis between the rod itself and the nut. Whereas the X-Y guide rails are generally made from metal, the surface of bearings used tends to be of varying types. This may lead to either kind of contact, either metal on metal, or plastic on metal.
The type of contact dictates the kind of lubricant that would be effective.
Suitability of lubricants for 3D printers
The suitability of a lubricant for 3D printers depends on two things:
How well it prevents direct metal-on-metal or plastic-on-metal contact; and
How it affects smooth movement of the parts
A heavy lubricant would create a thicker barrier between the contact layers and would stay intact under heavy load. However, heavier lubricants also have a tendency to inhibit movement. Whereas a light lubricant is great for movement, but it does not provide the same sort of protection as a heavy lube does.
For 3D printers then, a goldilocks solution becomes necessary. The ideal choice should bend towards lightness for smooth movement under load.
Should you use WD-40 on a 3D printer
Standard WD-40 is more akin to a solvent, and NOT a proper lubricant. Nor should it be used as such. It is designed to eat through rust and inhibit further rusting. Its use on 3D printers has been known to cause irreparable damage to rods being eaten away over time due to excessive misuse of this multi-product.
With that out of the way, let's look at the different types of lubricants that do work.
Best lubricants to use and the parts of the 3D printer to use them on:
1. PTFE lubricant
PTFE (Polytetrafluoroethylene, also known as TEFLON) lubricants are the ideal lubricant for 3D printer parts such as threaded rods for X, Y or Z axis. PTFE lubricants are available in oil, grease and solvent (dry) bases.
Depending on the particular requirements, any or all of the above 3 form lubricants can be used. However, go with oils whenever possible. PTFE has one of the lowest drag coefficients of all the available lubricants and is suitable for both plastic-on-metal as well as metal-on-metal contacts. Drag coefficients is a measure of how high or low the surface friction of a compound is.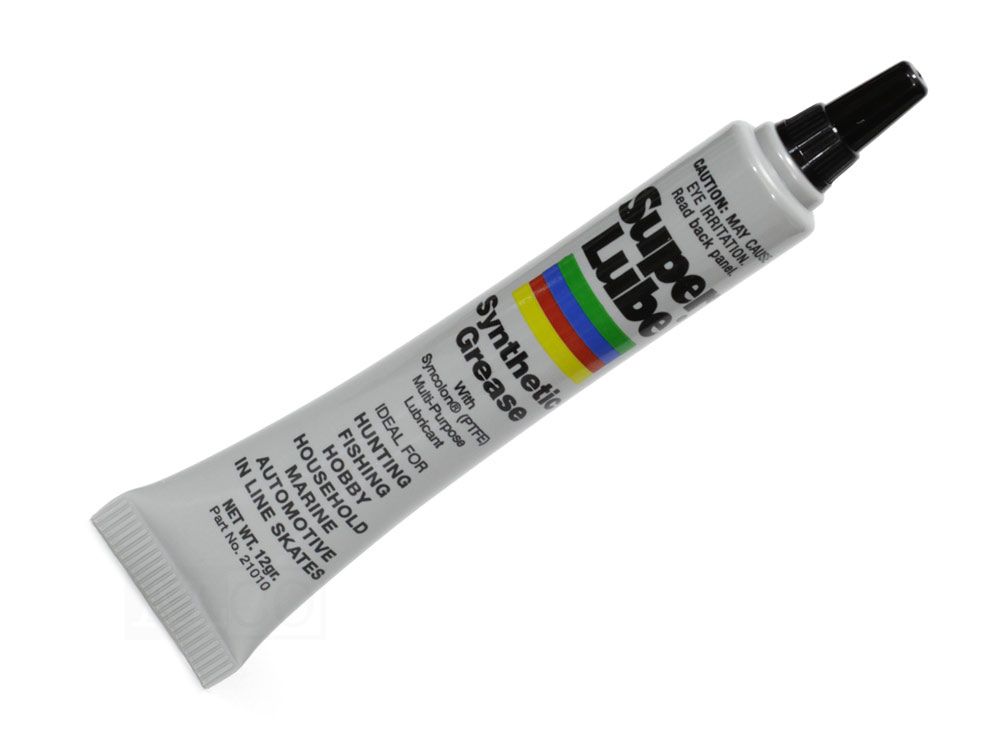 The most popular brand of PTFE lubricant that is often used amongst the 3D printing industry is known as Super Lube, an ISO grade synthetic lubricant with multi-purpose applications. The PTFE particle containing in Super Lube adheres to any surface the oil comes into contact with. The particles helps to prevent corrosion (rust) and wear from friction.
The Super Lube we use on our printers, seen here: Super Lube with PTFE, is usually quite affordable and also contains PTFE.
Another type of lubricant often containing PTFE is Lithium Grease lubricant. Lithium grease, referred to as white lithium grease, is another lubricant commonly applied to 3D printer rods and guide rails. It is generally made with lithium soap and some other mixture of oil and additives.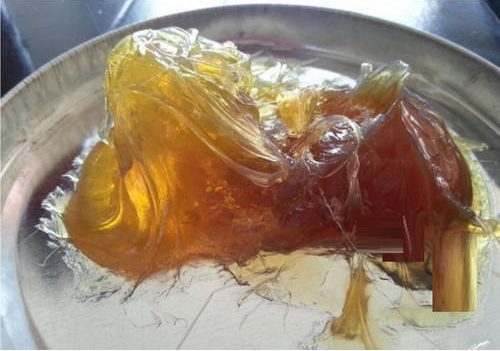 2. Silicone lubricant
Silicone lubricants are a popular choice as they are readily available, non-toxic, and easy-to-use. Most silicone lubricants are silicone oils. Greases are available, but oil-based silicone lubricants are by far the most popular. The silicone lubricant by Super Lube seen here: Super Lube silicone lubricating grease, is also a good choice. It also contains PTFE.
While silicone is a good choice for plastic and rubber surface contacts, it can also be used for plastic or rubber on metal contact.
Silicone lubricants are not, by any means, suited for metal-on-metal contact. So, while depending on the exact make of the XY axles/guiderails, this lube may or may not be used. For the Z-axis, this lubricant is simply not suited at all.
3. Graphite powder lubricant
Graphite powder lubricants are also suspensions, in either oil, grease or solvent bases. The most popular graphite-based lubricants are easily the dry lubricants, available in volatile solvents. Graphite itself is a good lubricant. Graphite further helps in the process by adding strength to the lubricated parts. It should be note, however, that graphite powder can penetrate plastic parts and may cause weakening in those joints of the 3D printer.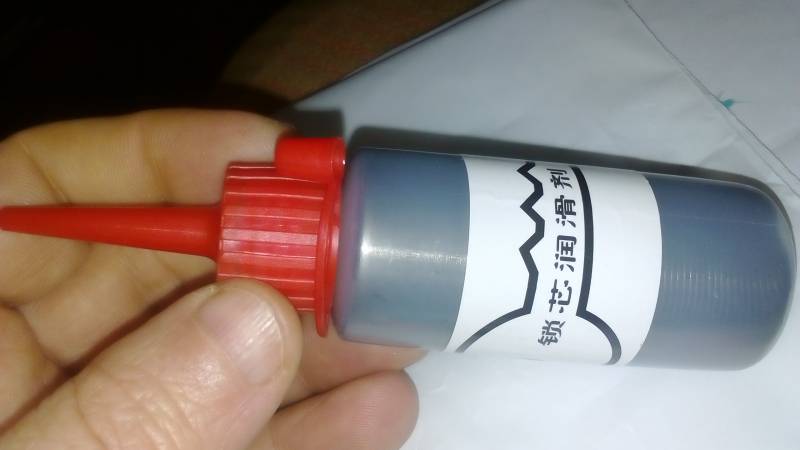 Further, its carbon black color, as well as electrical conductivity means that it should only be used where the black coloring is not an issue, either aesthetically or in terms of color contamination of a part during printing. It's also important to make sure that it is not used in any place with direct or indirect contact with the wiring or electronic circuitry of the 3D printer.
4. Molybdenum Disulphide (MolyD) lubricant
MolyD is not electrically conductive. In all other respects, however, it is very similar to graphite lubes. While MolyD is used by some 3D printer users, it is by no means a popular choice owing in part to its increased price as compared with other lubes, and also because like graphite, this solid additive may weaken plastic parts of a 3D printer.
5. Tungsten DiSulphide (WS2) lubricant
WS2 is not a general consumer-grade lubricant. This is purely due to the fact that it is very expensive. WS2 was developed by NASA to provide the best possible lubrication to its space bound equipment. It is one of the few compounds to have a lower drag coefficient than PTFE.
While it is not a necessity to use such an expensive lubricant, for the prosumers out there who want to take care of their 3D printers in the best possible way, WS2 is probably as good as it gets.
Oils VS grease VS dry lubricants
Oil based lubricants are often touted as the ideal form of lubrication. They are not as heavy as grease and are not as light as dry (solvent-based) lubricants. And in many ways, this is true. Oil based lubricants come with a variety of additives, such as the solid lubricants discussed above as well as anti-corrosion, water, dirt and oxidation resistant agents. Oils are not as bad as grease in picking up stray particles such as dust and UFPs from the ambient surroundings, but they still can accumulate their fair share of goop on the shafts.
Grease on the other hand, is the worst offender when it comes to creating a dirty mess over time. Properly applied grease, however, will also provide the smoothest operation of all three bases. Lithium grease with PTFE is also the most suited for relubricating bearings when needed.
Lastly, are dry lubricants. Dry lubricants are solid lubricant particles suspended in alcohol or a similar spirit. They are available either in spray cans or can be "painted" on the parts. Dry lubricants completely eliminate the issue of lubricants collecting dust, dirt or UFPs on the 3D printer rods.
PTFE dry lubricants are quite popular as they provide great lubrication without the mess of oils or greases. Dry lubricants need to be reapplied more often because of the lack of tackiness that oils and grease provide. They also are slightly more expensive, but not egregiously so. Dry lubricants also are often combined with dirt, corrosion and oxidation resistant compounds in spray can form.
How to lubricate a 3D printer
No matter which lubricant one chooses, the lubrication process remains unchanged:
To start off with, thoroughly clean the 3D printer rods or guide rails, and any other moving parts, such as belts, that need lubrication. It is a good idea to clean the system with rubbing alcohol with a cleaning cloth and paper towels. Acetone is not recommended as it is corrosive and eats through plastic like acid. For the threaded rod, use a toothbrush with rubbing alcohol. Wait for everything to dry.
Next, apply the lubricant directly on the surface at equal distances, like putting a drop at every 5 or 6 inches or so, taking care to not apply too much the first time.
Spread the lubricant evenly with an applicator or a rubber glove. It is better to not use your bare hands, as an additive in even a nontoxic lubricant may cause some irritation.
Once applied, move the parts either manually or via the motor controls of the 3D printer. "Jog" the printhead along the complete length of the axes a few (2-4) times to make sure that the lubricant is spread out evenly and gets into all the nooks and crannies.
If at this point, you can visibly see the lubricant, then it is probably excessive. Too much lubricant will also strain the motors by inhibiting movement of the parts, so clean any excess off with paper towels or a cloth.
Rerun the printer along its axes to make sure that everything is still smooth as required.
How often to lubricate a 3D printer
As is evident from the above instructions, the most difficult part of lubricating a 3D printer is selecting the right lubricant. Many 3D printer manufacturers nowadays offer maintenance guidance, including what lubricants are best suited. As a best practice, try to check with the manufacturer's support page or the manual that came with the 3D printer.
Still, it is equally true that manufacturer recommendations are often designed to cater to the lowest common denominator of potential customers. So, if you want to experiment with giving your printer a more comprehensive servicing, that will serve you well in the long run.
As mentioned above, old grease that's been applied and expose to the environment tend to collect dust and debris. Ideally, you will want to clean and reapply lubrication every so often depending on the type of environment.
Though it may be excessive in most cases to reapply lubrication each month, doing a monthly preventative maintenance check is not a bad idea. If a printer is making a squeaky sound while it runs, then the next lubrication application is obviously past due. We hope that this little guide helps in making that monthly servicing for your printer that much simpler and more beneficial.