3D printers are used to print objects of various sizes, using different materials like plastic, wood and metals. As a novel technology, 3D printing was welcomed with loads of excitement. The possibilities of creating a real object from your designs, looks like the most amazing thing in recent times. It does not take long however, before you exhaust the list of objects you wish to bring to life.
It's absolutely fine to run out of ideas, you will develop more ideas with time. In the meantime, here is a list of small yet exciting things you can print today that you will find very useful. Hope these objects inspire your creativity.
General Home Use
These are items that will serve to be useful for general use around the house.
Folding Clothe Hanger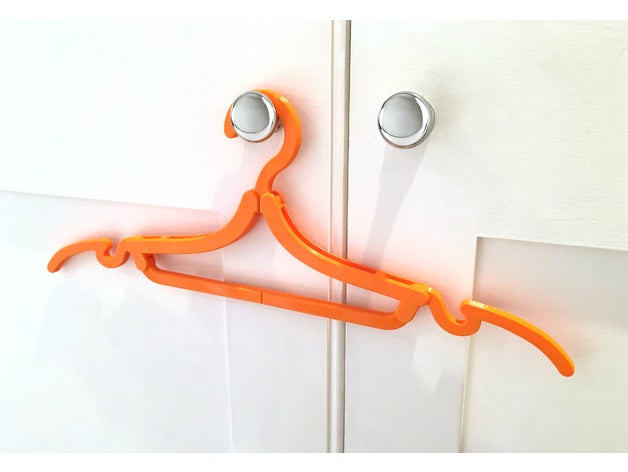 You no longer have to throw your jackets around the chair again to prevent wrinkles. A 3D printer can be a useful tool for creating hangers.
Apart from the convenience of getting what you need without having to step out of the comfort of your home, another special advantage of using a 3D printer to create clothe hangers is that you are not limited to a particular design or color. Now, you can hang your clothes in styles.
Gift Box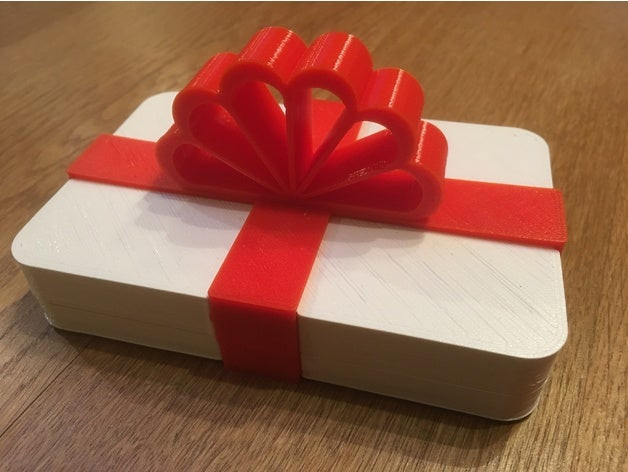 Soon, the festive seasons will be upon us, and we have to package gifts for our loved ones; nieces, nephews, cousins, families and friends or even for special occasions like birthdays. In cases where you have the right gift, but it's inappropriate to deliver it naked. Your 3D printer can help keep the elements of wonder and surprise alive. With an attractive gift box, the gift becomes more beautiful. It might be simple but box itself can add extra value for the recipient.
Bookmarks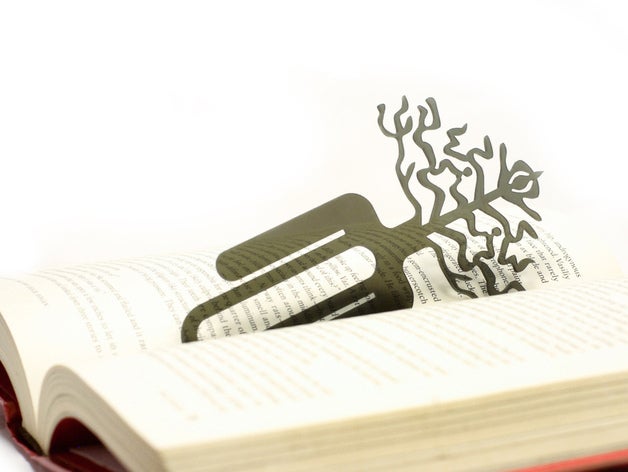 Books are essential for keeping a sharp and sensible mind. According to a recent survey published in 2019, more than 70 percent of people have read at least one book in the previous year. What it does not mention is how many of these people lost their page of progress after putting their book down for a bit.
Door stops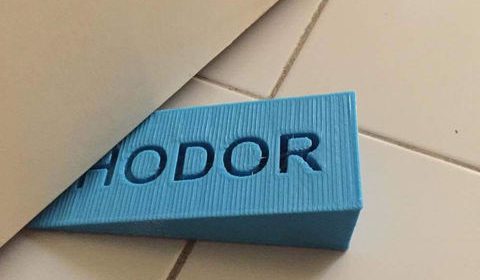 Door stops are made to perform one very basic task, to hold a door open. They are however very handy for a number reason. They are great for keeping the spring-loaded doors from slamming shut. They are handy for grocery halls, when multiple trips must be made in and out. They are also effective on nice breezy days.
Key Receptacle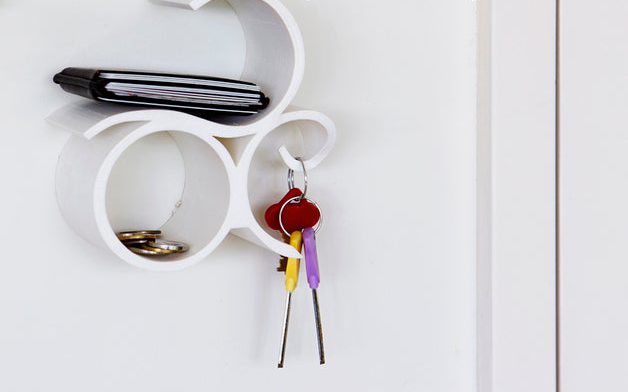 A key holder can be easily printed and mounted near the main exit of the house. There, keys can be conveniently placed for easy in and out access. No more searching for car/house keys only to find them wedge between the cushion of the couch or in the pockets you never thought to look.
Phone case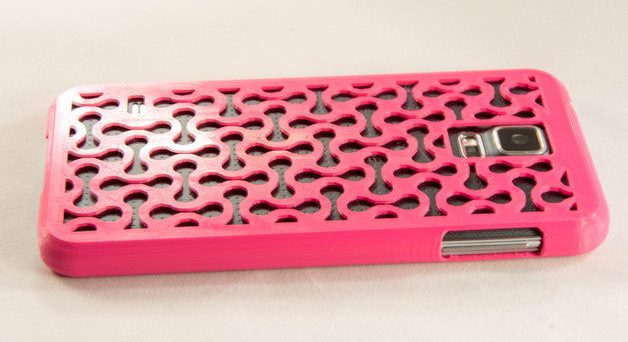 It would be tough to survive today without our phones. Apart from that, phones can be a sizeable investment. A 3D printer can print a protective covering for your handsets to protect it from scratching and provide cushion in case of falls. You have an option of customizing your own phone cases…Amazing.
Piggy bank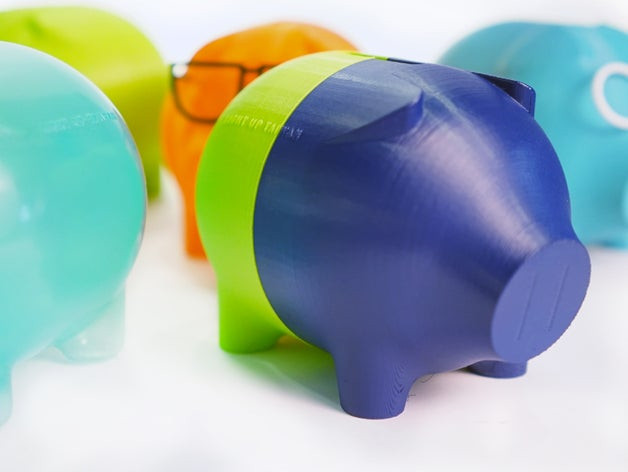 Your piggy bank does not have to look like a pig. Long as it serves its purpose. Saving is a good habit regardless of what you may hear. So, if you are making one for yourself or for your kids, it's very easy and fun to make.
You can design it to look like a hog just like its name suggest or do something different. Maybe not directly in this case, but your 3D printer is capable of helping to save up for the dream vacation.
Wardrobe/Fashion
Believe it or not, 3D prints can also be effective and useful in the dressing room.
Wallet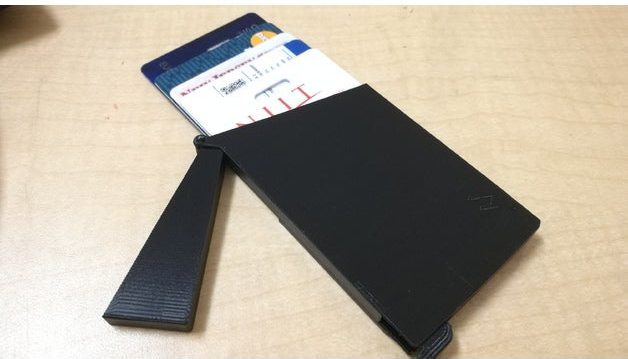 Almost everybody carries a wallet. With a 3D printer, you can customize your own wallet and even add more features. You can make different compartments for your credit cards, ID, cash and key.
Office Use
The following items are perfect for the office. These prints will turn a messy unproductive office into an organized and efficient workspace.
Earbud Case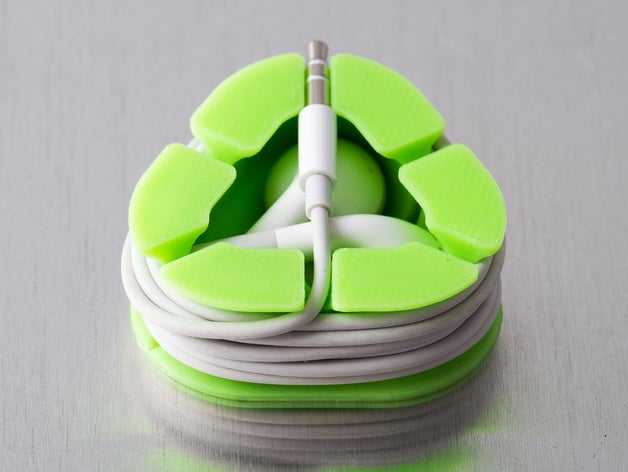 Often, the case that comes with our earbuds are destroyed during the excitement of cracking open the new packaging. These earbud cases will make themselves very useful in helping us to keep the wires, earbuds as well as the surrounding space nice and neat.
Laptop Stand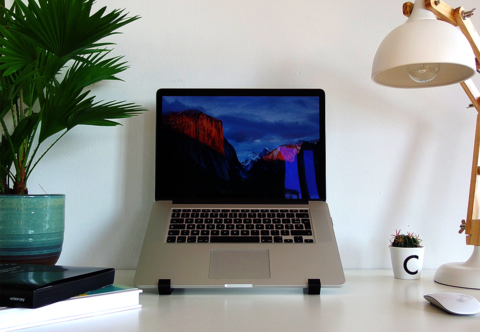 It's been said that sitting down for extended periods of time can be damaging to our muscles, backs and overall health. Perhaps one of the most functional items on this list, this laptop stand is great for those who uses a computer throughout the day and enjoy being on their feet.
USB cable organizer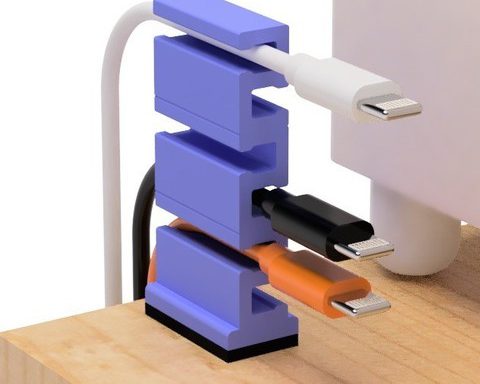 Asking if you have USB cables around is like asking if you have a tap in your kitchen. In this era, USB cables are a necessity, and they are usually everywhere.
The real question is "are they causing a mess", appearing everywhere on your desk and in your desk drawers. A viable solution for this is to make an organizer for the cables and the devices they are associated with using your 3D printer. The next time you set to work on your desk, you don't have to chase cables around.
Pen holder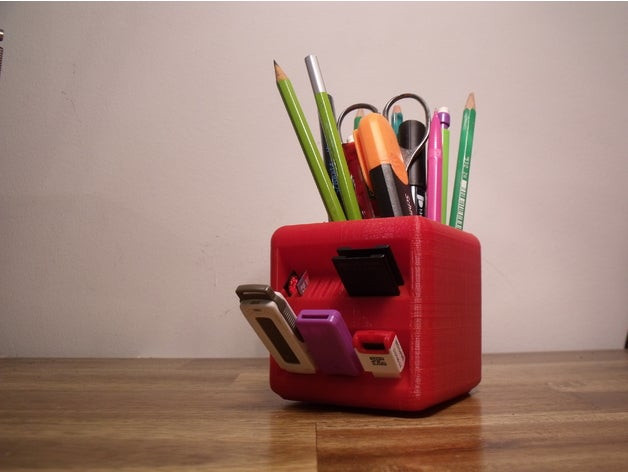 Organize your pen and pencils in a beautiful pen holder, something befitting of your work desk. This can be customized to look like any object of your choice so far it keeps your pen from rolling off the desk onto the floor. You can keep it simple or complex, but it will certainly be a useful addition the office.
Headphone hanger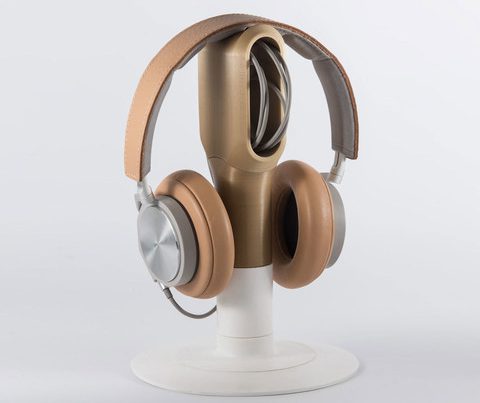 Use that extra space on your wall cleverly and keep the space organized with a beautiful hanger for your headset. There will be enough space to hang your tie, scarf and other similar items as well.
Flower vase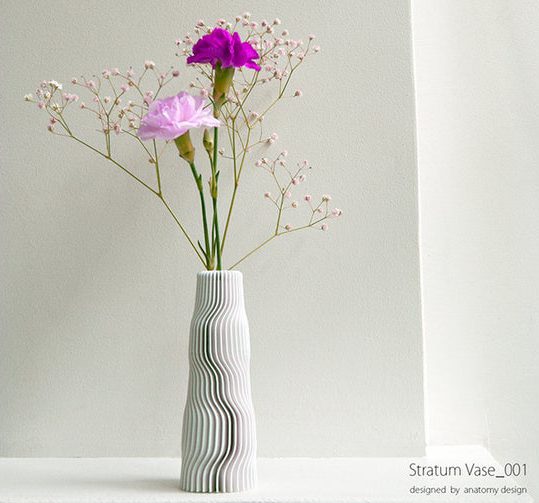 Flowers add beauty to any space. But what is a beautiful flower without a beautiful vase to match. Your 3D printer can produce beautiful flower vases of different designs and color. So go ahead, and order for beautiful flowers to add beauty and fragrance to your home or office.
Speaker amplifier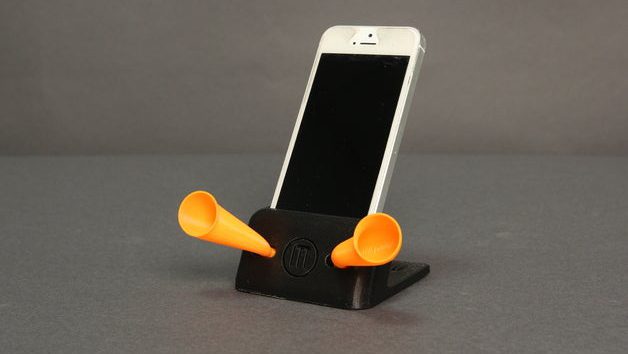 This simple object can be used to amplify sounds from your smartphone so that you enjoy a budget stereo. All thanks to your 3D printer.
Buttons and Paper clips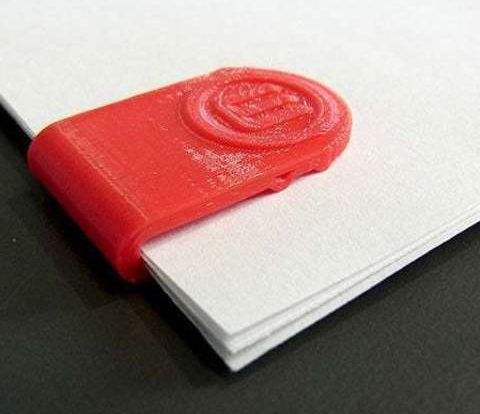 Buttons are another thing you might not remember that you can print on your 3D printer. This is the time to replace the buttons you have lost on your dresses. Another simple object is the paper clip, you can organize your papers with these simple objects and of course you can print them in abundance.
Bedroom
The bedroom is perhaps the section of the house where we spend a majority of our time. These valuable 3D prints will make the time we spend in there much more pleasant.
Smartphone Dock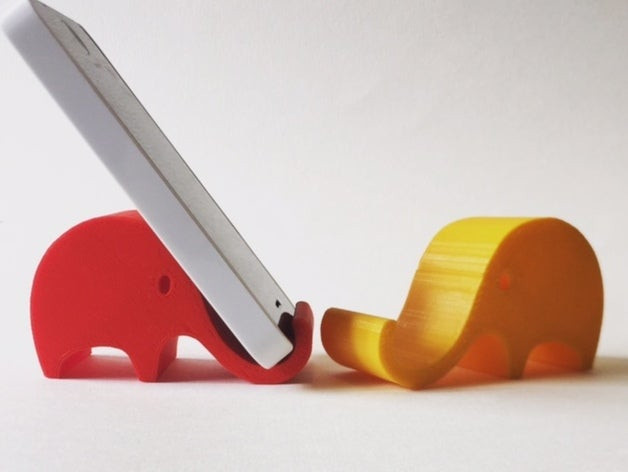 This smartphone dock is not only stylish and modern looking, it provides some wonderful convenience and practicality. Finding an outlet is often one thing, having a good place to set the phone while it charges is often another. With this dock, you have your cake and get to eat it too.
Night lamp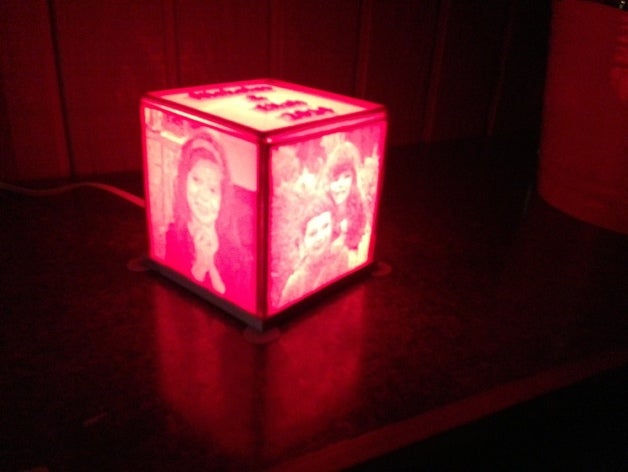 These creative lamps are not only practical for lighting up the room, they also serve as a decorative piece. Custom 3D printed night lamps can be made to glow with various colors and at different intensities.
Book holder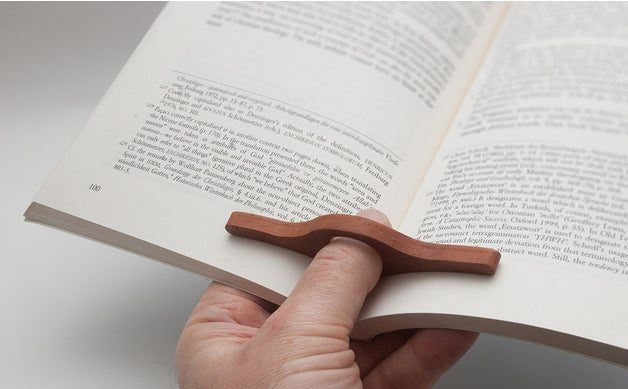 Wouldn't you like to shake the hand of the person who came up with this awesome design. This book holder practically eliminates all the nuances involved in reading a book. The only thing left is a book holder that holds itself.
Kitchen/Pantry
Space can be very limited around the kitchen. Without proper care, pantries can become messy with food item scattered everywhere. The following practical 3D print will help make a tidy kitchen space a reality.
Bag clip with cap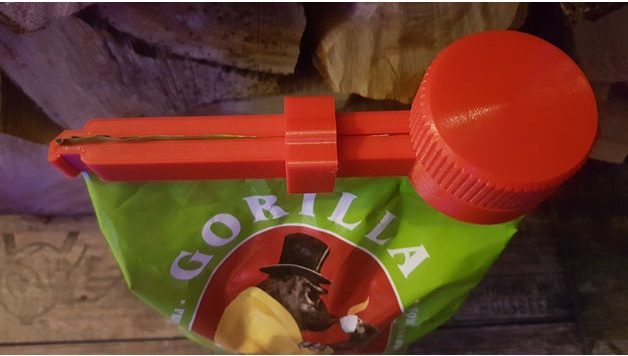 Thinking of how to keep your beverages tightly enclosed in the packaging bag. A screw cap can be added to the typical clip for quick access. This stylish design can be printed very quickly on a 3D printer. This will awe your friends and raise the question, "where did you buy that?". It is simple and very useful.
Drain Catch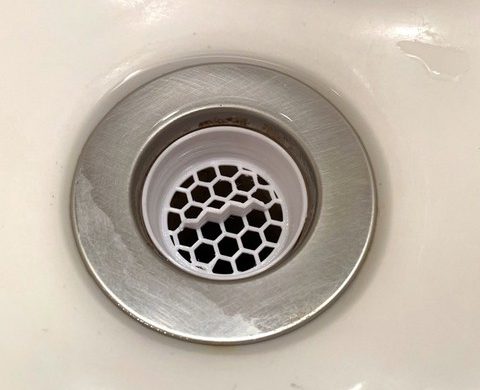 This is another kitchen/bathroom utensil that you can print on your own at home. Sometimes the metal drain catch in our sinks may have rusted and is now horrible to behold. Worst, maybe you can't find it any ware again. Prevent blockage in your drainage with an effective 3D printed drain catch. Making one is as simple as it looks.
Cookie cutters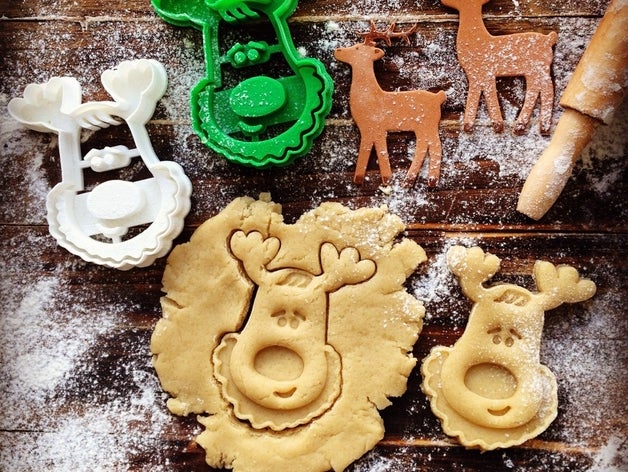 Pastries can be made into different shapes and can even be made to resemble anything. Kids often find cookies with interesting shapes more appealing than those with regular shapes. With your 3D printer, you can make plastic cutters of different shapes and characters.
Bottle openers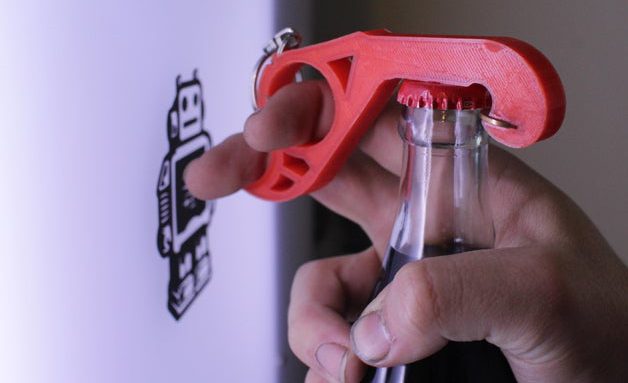 These little objects are very useful in opening bottles of drinks. As handy and effective as they are, they are often nowhere to be found when you need them. Maybe a result of how handy they are. Nevertheless, with a household 3D printer, you can print as many as possible.
Garden
If you maintain a garden, a 3D printer can be your best companion when comes to useful items and tools to facilitate many gardening projects.
Self-watering plant pots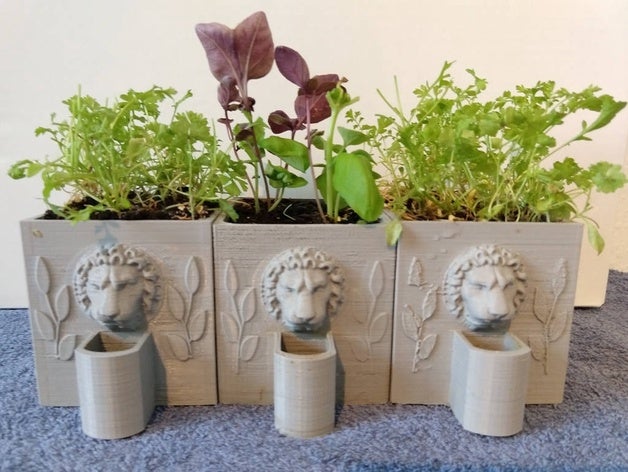 You can design a self-watering pot for your non artificial plants. One more time, your 3D printer has given you reasons not to worry when you think of adopting a new flower.
Garage/workshop
Not only can 3D printers find a cozy home within the garage, they can also produce useful prints that can be quintessential in a garage workshop. These are some of the practical 3D prints every garage workshop must have.
Battery Holders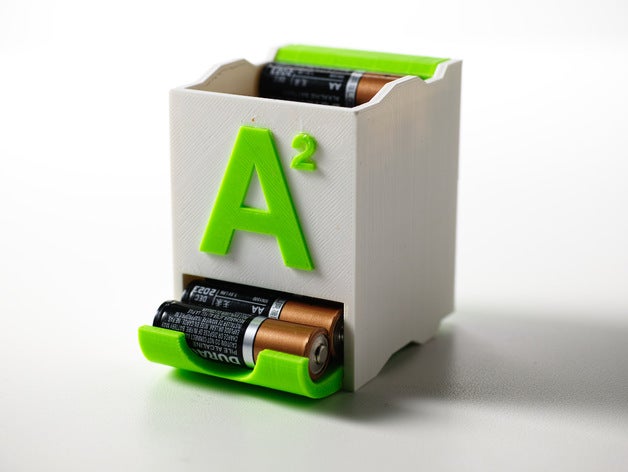 When the smoke detector or thermostat begins chirping, turn to this handy battery holder. Take one battery and other one rolls right into place, ready for some happy fingers to scoop them up. Just another way the 3D printer is making life easier.
Work Clamp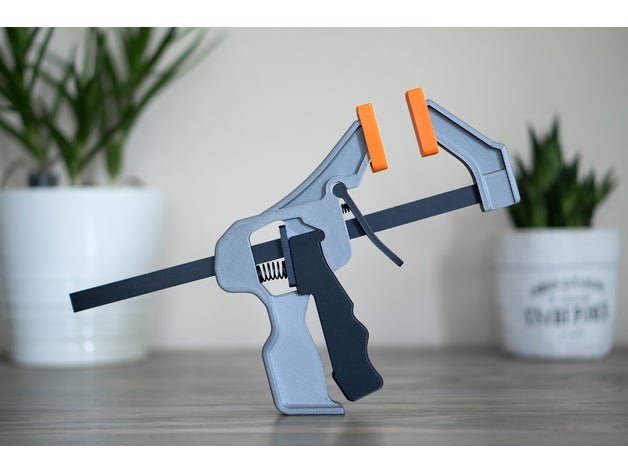 A useful tool produced by another useful tool. This clamp will work great for small wood working projects like picture frames, castings, and other 3D printing projects.
Cable Manager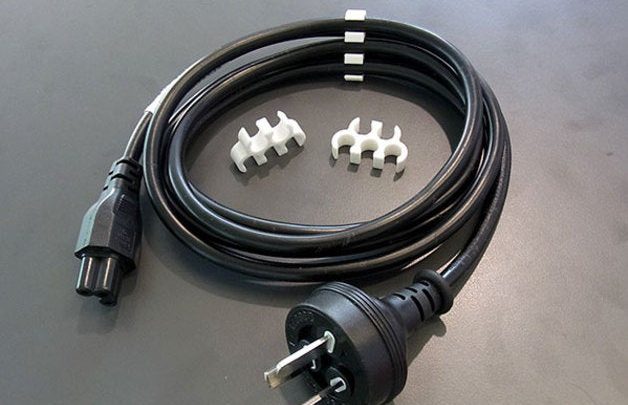 Its always important to keep the work space organize. However, it is not always easy. This cable tie will certainly help keep unused cables from dangling, knotting and creating an unsafe work environment.
Gage blocks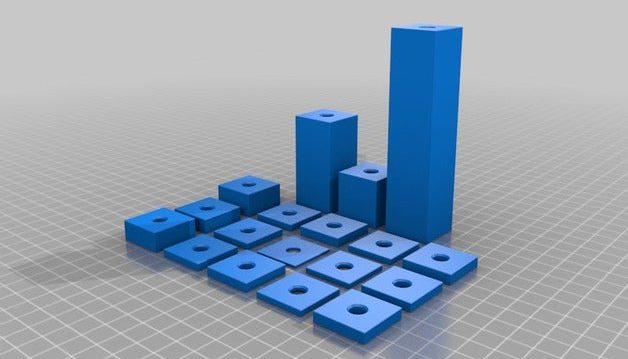 Designing a cube is just as simple as making sand castles. These cubes can be used for precision measurements. All though 3D printed gage blocks are far off and more error prone than traditional shop grade gage blocks, they will be very handy when measuring high tolerance items and equipment.
Storage box and baskets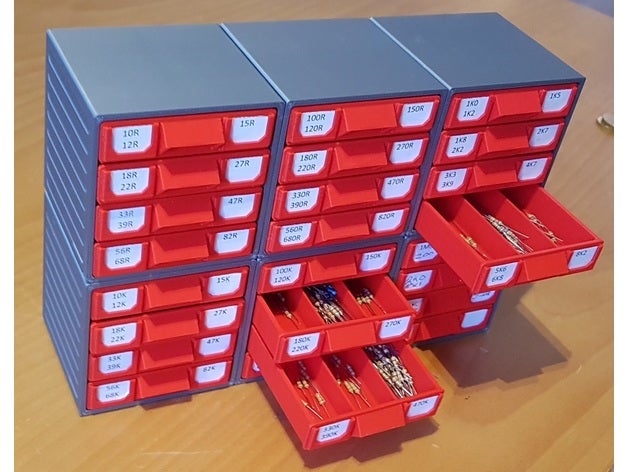 Different types of storage boxes and baskets can be made using a 3D printer. Maybe you have not thought about it, but you can make a box that fits different tools, nuts and bolts to keep the workspace neat and keep things easily accessible.
Phone stand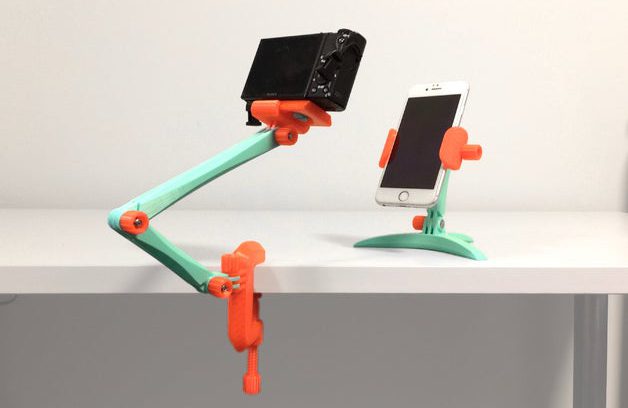 The handset or simply called phone is the most frequently used gadget by majority all over the world. Many times, you have to work, and you have to keep your phone close by or even use it while you are actively working. A phone holder will come in handy in such situations. Go ahead and make one or more for yourself. There are a world of available colors to choose to from. Phone stands are easy to make and can be created in various styles.
Custom Tools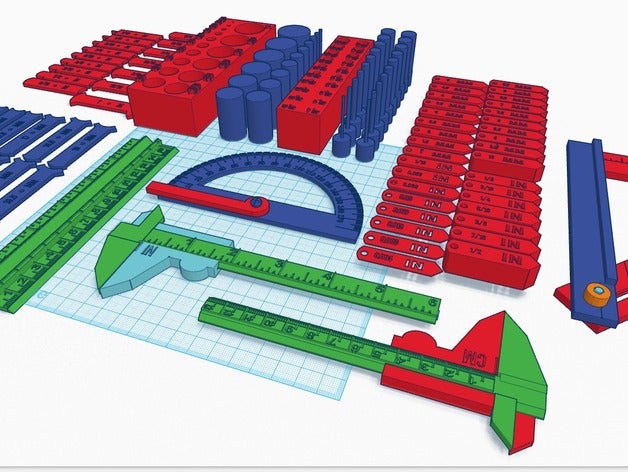 Ever found nuts around your faucets / sink loosening? You can print an adjustable wrench right in your home that you can use to tighten nuts of different sizes.
Bathroom
Bathrooms are another area of the house where useful 3D prints can facilitate daily activities, economical efficacy, as well as general aesthetics.
Tube squeezer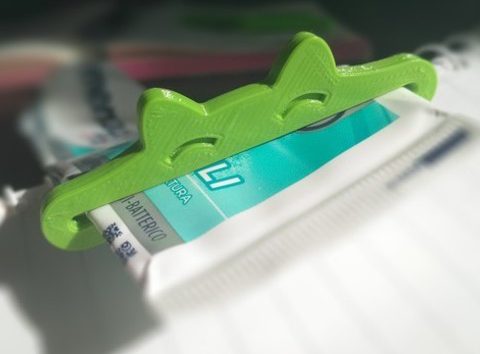 With a simple designed tube squeezer, you can get the very last drop from your cream or toothpaste. The tube was filled for you to use and you paid for it. You may as well use it all. That problem of being unable to empty stuff stored in a tube is no more with a simple but efficient squeezer. Ensure your design is wide enough to contain the different sizes of tubes of various items.
Hair clip and hair combs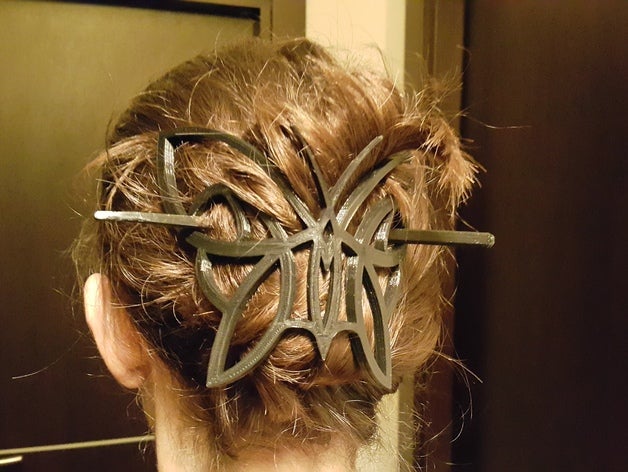 Simple objects as simple as clips and combs might not come to mind even though you own a 3D printer. This is to remind you that you can print combs of different sizes and clips of different colors.
Game room
Kids love toys and guys loves man caves. Children play area are often the most difficult place in the house to manage. These useful 3D printing will serve any play area effectively.
Card deck shuffler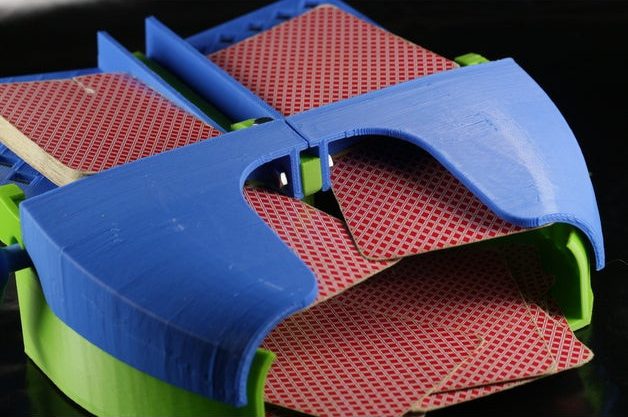 How about effortlessly shuffling cards the next time you play poker. Depends on if you will make a card deck shuffler before the next game. A simple design yet something to make your game interesting. Now, no one will accuse you of cheating while shuffling the cards.
Toys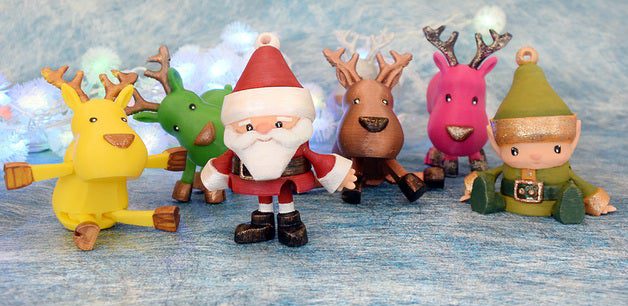 Which kid does not like toys, you will be surprised how the simplest toy can keep the children in the house busy for hours while you nap or work. Spinning tops, 3D cube puzzles, animal puzzles, chess bots are among a long list of toys that you can print using a 3D printer.
Whistle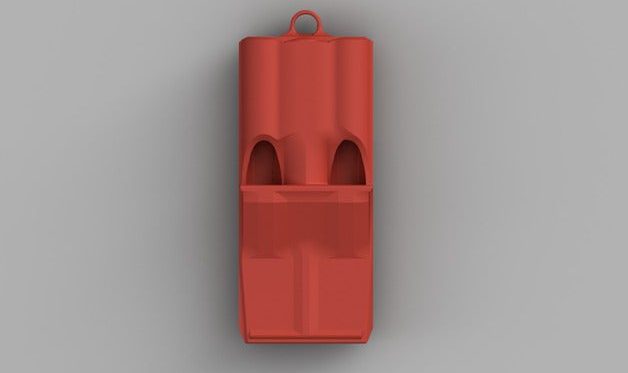 A whistle is a very useful object. Apart from its use in sports, it can be used to call attention when in distress. So, having a loud one is not a bad idea. Who knows, maybe your friend will ask you to referee the next round of outdoor games.